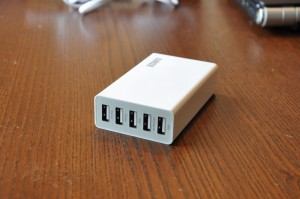 Have you ever had to fight over the only available wall socket in a hotel room with your boyfriend/ girlfriend? Well, I have, and I found myself asking why they hadn't installed further spaces to accommodate two people in one room. Surprisingly, I had never thought of a much more simple solution: a multi-port charging device, just like the Anker 5A 5-Port Wall Charger.
Packaging and Design
The product's packaging is straightforward. What you get is a small carton box protecting the charging unit, a detachable power cord, a multi-language manual and a warranty card. There is nothing special about the packaging, because there's no need. It's simple, efficient, and more importantly, it's environmentally-friendly.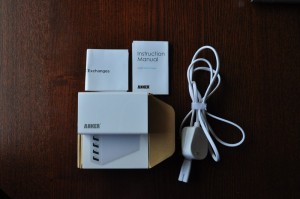 The charging unit itself is more compact than it seems, sizing at 98 x 65 x 25mm / 3.6 x 2.6 x 1.0 inches and weighs only 159g. Visually, it approximately doubles the size of a standard wall charger. Build quality is good, as the charger feels sturdy in hand, and the finish of smaller details such as printed texts gives me the feeling this was built with quality in mind. There are 5 USB ports in total, 2 for the iPad, 1 for Android phones, 1 for the iPhone and 1 for Samsung tablets.
You will also find a detachable power cord which is long enough for you to put the charger in the most convenient spots. Anker also produces some multi-port chargers with a built-in plug, so they are even more compact. However, you may find yourselves in trouble if the wall socket is hidden behind a wardrobe or a bedside table. That's when the versatility of the extension power cord comes in handy.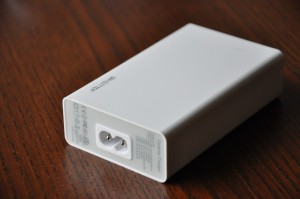 Performance
According to Anker, the five ports' outputs are rated as follow:
2 iPad outputs at 5V/2.1A each
Samsung Tab: 5V/1.3A
iPhone: 5V/1A
Android: 5V/1A
On the downside, the maximum total output is only 5A, so if you plug all five devices in their designed ports, they may not charge very well. I have never used up all 5 ports of the charger, simply because I don't have that many devices. I use it for my Sony Xperia T, my Nexus 7 and sometimes my girlfriend's iPhone 5S. They all charge well, and there are virtually no differences in charging time compared to standard chargers. However, total output required for those three devices is only about 3.5A, and the result may not be as commendable when all five ports are occupied at the same time.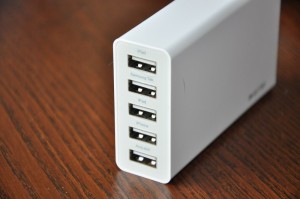 The charging unit does get hot when in use, but it's not something serious. I can hold it in my hand for a long time without getting irritated by the heat. There have been reports of users saying that they hear an annoying high-pitched noise coming out of the device, but I can't say that I notice anything. I used to have the Nook HD charger which made that noise, but I could live with it. In the end, it depends on your hearing ability, and whether you can stand the charger whining (if it actually does).
Verdict
This little gadget solves a problem that many of us are faced with: too many power-hungry portable devices and too few wall sockets. Although the 5A total output may not be enough to feed 5 devices simultaneously at full power, I don't think most people will experience many situations when they really need to do that. All in all, the Anker 5A 5-port wall charger is a should-have if you want a versatile power source for your mobile devices, and a must-have if you don't want to risk your relationship over a hotel wall socket.
Tags: 5-Port Wall Charger charger gadgets plug