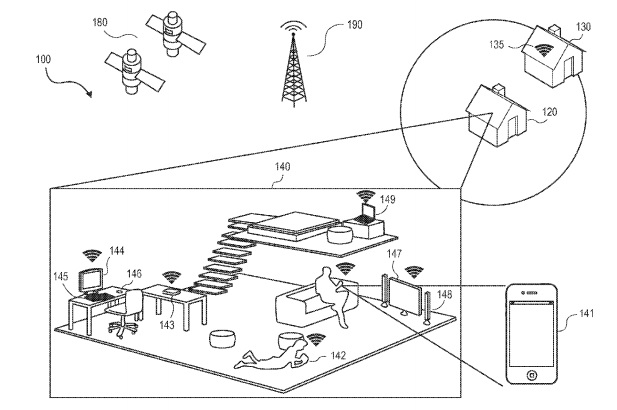 Privacy. The one thing most smart phone users whether they use Apple or Google, are most worried about. Locking your smart phone can sometimes be a challenge, especially when you are too annoyed to do it, or tinker with one of the apps that allow you to do it. Do you wish that your smart phone could avoid the unnecessary punching of pin codes or the pattern locks and fingerprint sensors ? Well thanks to Apple, someone is looking at fixing it, adding that extra smartness to the smart phone.
Apple loves to innovate, and they are at it again. The US Patent and Trademark Office on Thursday,  published something that detailed what Apple planned to do with technology and a smart lock. The patent, uses technology to sense a user's location and modify the phone's unlocking code, making it the world's first smart lock.
The way it works is quite simple. Apple has this idea that an iPhone with GPS or WiFi can locate and remember a user's regular locations, like their home or work-place. The idea is for an iPhone to be able to recognize users' typical locations, like their home, work, and car, based on GPS or a known Wi-Fi network. The security system will adjust itself according to these locations. If you are at home, then you probably would not need any security, meaning you don't need to constantly key in the password. If this was work, a grocery store or the mall, expect a higher level of security.
Apple on its unique smart -lock patent, wrote "Because some locations may be inherently more secure, such as a user's home or office, these locations may be considered 'safe' and require less stringent security. It can be desirable to have decreased security requirements when the mobile device is in a secure location. Conversely, some locations may be considered higher risk or 'insecure.' In these locations, it can be desirable to implement stronger security protections."
Apple is gearing up for the release of the iPhone 6, but work never stopped on enhancing its security. They have been working on it for years now. remember they are the ones who patented the slide to unlock feature. Last year, we saw the Touch ID fingerprint scanner on the iPhone 5S, a new feat in the field of security. The biometric sensor allowed users to swipe and unlock, but in March the patent was taken one step ahead. The research and development  team at Apple are now looking at syncing all their devices with the same data.
Since this is the first time we have heard Apple talk about it, Google is not far away. During the annual Google I/O conference in June, the same feature was briefly discussed. PC World, who covered the conference reported that Google called this feature "personal unlocking. Revealing just as little as possible, the feature allowed people to unlock phones based on location. This is one of the most anticipated feature as Android gears up to release Lollipop, its latest version.
Apple's work with location-based security system still has a long way to go as far as its implementation goes, but the idea is welcome, if you value privacy above everything else.
Tags: #security apple Google GPS iPhone 5S iPhone 6 location Wi-Fi