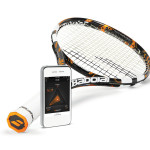 Forget Hawkeye. Tennis is taking a different kind of technological leap forward in the form of the new 'connected' racquet from Babolat, called the Babolat Play. Over the course of ten years, the French company has developed technology that uses sensors in the racquet handle of the existing Pure Drive racquet to collate vital data about a player's game. As a result, the racquet can display astoundingly detailed statistics like your power, top spin, ball-to-racquet placement as well as keeping track of your forehands, backhands and first and second serves. It can tell the angle at which you hit the ball as well as the number and type of shots per rally. Simply put, this is giving players technical information about their game that has never been available in this detail before.
The information collected by the racquet is then transmitted to smartphones, tablets or computers via a Bluetooth or USB connection. This allows players and coaches to interpret the data for themselves on the affiliated app that you download and sync with the racquet. The app uses all this data to generate what they call your 'pulse'. Your pulse is a cumulative figure that represents your overall skill level by measuring your power, technique and endurance and is the figure used to rank you amongst your peers in the Babolat Play community. But don't let us tell you. Watch the video below for a full run down of what to expect from this impressive piece of kit.
The development process involved a lot of tests in labs and with top professional tennis players to ensure that the data was accurate. As a result, the analytical potential from playing with the racquet may have a huge impact on professional and amateur tennis alike. Hawkeye has already brought technical data to the forefront of the sport, enabling us to access stats such as ball placement and where the player chooses to receive serves and so it was an inevitable step for this technology to be developed and it really emphasises the high level of individual technique in tennis.
Former coach of Andy Murray, Mark Petchey told Reuters 'It has the potential to change the way we think about coaching. From analysing the data, in one match or over several, you can analyse your player's shot selection. You can see if your player is playing with too much variety or not enough variety, or maybe not playing to their strengths, maybe being a little too defensive'. World number one, Rafael Nadal said 'The Babolat Play and Connect racquet is a tremendous tool. Having this new technology to capture information from my matches will mean a new way of analysing my game'.
On first learning of the racquet, it might be easy to assume it will do all the hard work for you and automatically improve your game. Knowledge is power right? Well, both Petchey and Nadal stress the importance of the racquet as an informative tool and not a coaching replacement. I could have all the data in the world but am confident I would never hit top spin like Nadal. At the end of the day you still need someone to interpret the data for you. You still need to implement strategy and skill to exact the perfect tennis game. But it is undeniable that this technology will soon be the tool of choice for every coach and aspiring tennis star alike. To have the stats down in black and white at the simple touch of a button will be invaluable. The fact that you can't cheat the technology or argue with it will enhance coaching for everyone as the data will simply tell you exactly what areas you need to work on and will surely be an enlightening experience for players especially.
So what does this mean for professional tennis? If you're thinking this really is an alarming introduction to the sport giving some players an unfair advantage, don't worry. The ITF (International Tennis Federation) is all over it, having created an approval process for what they call Player Analysis Technology (PAT) like the Babolat Play. It defines PAT items as being "any equipment that collects, stores, transmits, analyses or communicates information on player performance, and may be a standalone device or incorporated within existing equipment". But not only is the technology regulated, the use of it must strictly abide by the rules as well. Touchline coaching is banned during pro tennis matches and access to the kind of data the Babolat Play gives you would certainly be classed as coaching. Consequently, to reflect the inevitable influx of hi-tech coaching equipment, the ITF have also created a new rule – Rule 31 – that states "a player may not have access to data collected by Player Analysis Technology during play, except when play is suspended and coaching is permitted".
For the Babolat Play, the road to approval was rapid once the technology was ready. Mr Babolat, the man behind the first "smart" racquet, was expecting the ITF to deny approval. He told The Telegraph "I was afraid the ITF would say, 'no this is not in the spirit of tennis', but I was surprised. We were not pushed back at all on this."
But, not only does this have huge implications for the professional tennis world, the company also says a major benefit of the Babolat Play will be the "gamification" of tennis and the appeal to new generations. As you can tell from the video, the kind of data kicked out by the racquet is akin to the scores you get from a video game. But instead of accuracy, head shots and kill streaks, you have power, endurance and technique. You can level up by practising more and increasing your pulse and you can compete against your friends in more ways than just the conventional scoring system of a tennis match. Because of the social aspect to the Babolat Play, you can compare every nuance of your game with your friends. Any good gamer will absolutely eat this up as we're a competitive bunch and now, not only can you compete against others but you can compete against yourself. The Babolat Play lets you see for the first time exactly how you are performing in comparison to previous sessions.
Impressive capabilities aside, it seems difficult to shake off all reservations entirely here. Mr Babolat's initial gut instinct that the ITF would deny approval due to it not being in the spirit of the game could ring true for some people. Tennis is a sport of individuality and finesse after all. With this kind of data, it could easily become more about finding the right formula to tweak your game to perfection. A player's on court personality could end up being reduced to a list of figures and comparisons. Pretty soon, every player will be trying to imitate Federer's backhand or Nadal's topspin rather than finding their own way to win, turning the sport from an art into a science. Tennis is already a statistically rich sport. If every racquet in the world becomes connected like the Babolat Play, it might become difficult to see past the stats and appreciate the skill and ability of each player, distracting us from what really makes a great player.
Babolat declined to identify which top players would be using the Babolat Play throughout this tennis season and some experts have speculated that because the racquet is uncustomisable at present (in terms of string tension etc.) that players would never actually use the racquet in tournament in its current form. Nevertheless, Babolat has a whole roster of high profile players including Rafael Nadal, Jo Wilfred Tsonga, Alejandro Falla, Li Na, Caroline Wozniacki, Sara Errani and Kim Clijsters (who is currently coaching Yanina Wickmayer) and it is fair to say that any number of these players could be using the Babolat Play to train or even compete in Wimbledon this year, despite confirmation being near impossible to find.
The Babolat Play marks the shift into a new technological era for tennis, both as a professional sport and a past time, and is sure to kick start a whole host of similar technologies in tennis and other sports alike. What are your thoughts on this introduction of "smart" tech? Are you excited about the unending possible applications or anxious that it might violate the spirit of sport as a whole? Let us know in the comments section below and if you've liked what you've read click here to purchase the racquet for yourself which is now available for everyone to buy.
Tags: apps Babolat Babolat Play Federer Hawk-Eye headset & bluetooth Nadal Smart Racquet sport sport technology Tennis Wimbledon