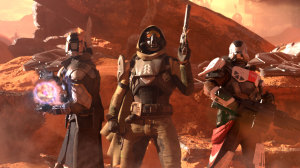 Well, despite very mixed reviews, Destiny has managed to reach magnificent heights and join the ranks of the megafranchises. The new open world first-person shooter has not rocked gamers' worlds and has received a very average 6.6 on Metacritic, with users blaming overly repetitive gameplay for holding it back. Critics have remained slightly more positive and see this is as a good start to a potentially great franchise. But the numbers speak for themselves.
The game was released on the 9th of September. In five days, it made Activision and the game's creators $325 million, making it one of the most successful new video game launches in history.
"Destiny fans played more than 100 million hours of the game in the first week," said Eric Hirshberg, CEO of Activision Publishing. "That's on par with the engagement levels of our most popular Call of Duty games, which obviously is an industry leader."
"And this is just the beginning. Destiny is a platform that will grow and evolve and we will continue to work closely with our partners at [developer] Bungie to bring a long line of new experiences and content to life in the game."
Cynics have cited this impressive sales figure as a result of a lack of decent next-gen console games at the moment. The pre-release hype caused hungry gamers to lap it up upon its arrival, apparently. However, it can't be ignored that Destiny boasts an ambitious combination of gameplay elements and has a certain level of novelty as well.
Set in the post-apocalyptic world, amid multiple alien invasions of Earth, the story is based on Earth's Guardians. Players take up the role of guardians of the last city on Earth and are able to wield great powers in order to defend it from Earth's other-wordly enemies. Players take on story missions with friends or fight against each other in multiplayer arenas in a world that creators have said will always be "alive", where things may happen that the developers never intended to happen.
It's an interesting concept and one that has plenty of room for growth. Whilst the game has far from reached the sales figures of the latest Call of Duty or Grand Theft Auto games, these are now very well established franchises and ones that meet great anticipation when new games are released. For a brand new launch, Destiny is looking in fine shape and if developers nurture this new franchise, we could easily be looking at the next giant of gaming. Given that Activision has agreed a ten year publishing deal, we look forward to seeing its progress! Well done Bungie!
Tags: activision call of duty destiny destiny beta Grand Theft Auto V PS3 ps4 xbox xbox 360 xbox one