For Elder Scrolls fans, MMORPG fans and every single gamer out there, this must be one of the most exciting titles set for release. With a PC and Mac release date set at 4.4.14 and the PS4 and Xbox One releases to follow later, surely this already has to be considered as a candidate for Game of the Year. A bold statement you may say? I personally think not, what's not to love about this game, the Elder Scrolls franchise in my opinion has created some of the best games in recent years, Morrowind, Oblivion and Skyrim have all been fantastic open world adventures that have really pushed the boundaries of our computers and consoles.
With the Elder Scrolls Online they really do have the potential to create one of the greatest titles of all time, in reality what was wrong with Skyrim? Well there were a few issues, some of the glitches were rather annoying but in such a vast and expansive world that they had created this has to be expected, in my opinion the biggest issue with Skyrim was simply the fact that we couldn't play online. People would always say how much better it would be if we could create groups, talk on party chat and defeat enemies together. To an extent yes this sounds a bit like World of Warcraft or many of the other MMOs, but with Elder Scrolls Online there is a huge market, a lot of people were put off playing games such as World of Warcraft because of the 'Tag' that this attracted with it, however many of these people who would stay away from the computers and the MMOs would love playing such games as Oblivion and Skyrim on their consoles.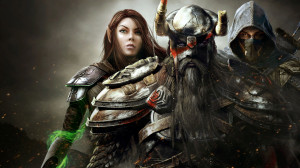 With the Elder Scrolls Online for the first time, there could be a removal of this image of the type of people who play MMOs, as the Elder Scrolls creators said this game could unite all different types of gamers from all different platforms. I for one have loved playing all the Elder Scrolls games and greatly enjoyed playing games such as World of Warcraft and this is why I am so excited for the release of the Elder Scrolls Online. I hope to see in this game all the great things from the Elder Scrolls franchise, the vast class customisation that's available, the hours and hours of endless questing and wasting time doing utterly bizarre things and of course the solid story lines that the Elder Scrolls games have always had. However I also want to see all the great things from the MMOs, the ease of creating groups and questing together, the raids and dungeons that are there to explore and the beautifully created vast worlds.
If the Elder Scrolls Online manages to bring all this together in a complete package it will most certainly be one of the greatest titles for gamers this coming year, with Beta sign up now having began we can all start getting excited about this release and anyone can sign up to be part of the Beta testing  on any of the platforms that are set to be released.
Tags: elder scrolls elder scrolls online gamer gamers gaming the elder scrolls