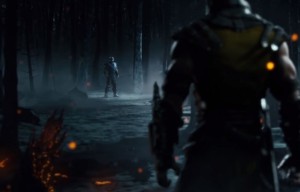 So Christmas has been and gone and we've all welcomed in the New Year with open arms. Us gamers have all unwrapped our presents and spent what free time we have between festivities playing the last of the great games of 2014, Far Cry 4 and Call of Duty: Advanced Warfare being particularly strong finishers. But already, we cannot wait for all that 2015 has to offer. With exciting expos hooking us in all through last year and release dates dropping more and more frequently, we all know there's some really great games coming. But what more do we know? Well, carry on reading and let's see what we have to look forward to…
Release Dates
First things first! What release dates do we know? When are the best games due out this year?
Evolve  – Evolve was one of the most exciting new titles announced last year. It's not an existing franchise, a reboot or a reworked version of a tired gaming model. Instead, the guys who brought us Left 4 Dead are trying to reinvigorate the whole multiplayer experience with their new team shooter. I'm sure we're all pretty familiar with the premise by now. You work as part of a diverse team of futuristic military personal to take down the monster. But the twist here is that you can also BE the monster if you so choose. You can use unique abilities during combat to aid you in your battle (similar to the COD perks), while the player-controlled monster can kill smaller creatures in order to evolve and become stronger. This implies all kinds of tactical fun and with the promise of a wide variety of maps, including a large jungle, we can't wait for this to hit shelves. And we don't have to wait long as Evolve's release date is February 10th and will be one of the first hotly anticipated titles to join us this year.
https://www.youtube.com/watch?v=zlaPT08Tmxc
Screamride – The next upcoming release date is March 3rd which will see the arrival of one of the more intriguing titles of the year. How many hours did you spend building and crafting the best theme park in the world on Roller Coaster Tycoon? Well Microsoft Studios are giving you the chance to do it on your games consoles as well as your PC in the form of Screamride. Dubbed as Roller Coaster Tycoon's "spiritual successor" on its wikipedia page, Screamride features more than 50 levels and three gameplay modes thus offering a far more diverse experience than that of it's predecessor. The premise is essentially the same but with the focus very much on the rides themselves rather than the whole park. Check out the announce trailer below!
Bloodborne – Bloodborne is probably one of the most exciting titles coming to PlayStation this year and has been the main focus of most of their 2014 expos. The game is set in a ruined city that is rumoured to house a potent medical remedy. You play a traveller who has come to the city to find the remedy in order to cure an affliction. However, upon your arrival, you discover that the city is plagued with a disease that has turned its inhabitants into bestial creatures. What results is an action-RPG that developers promise will be more accessible for players and, given that it is from Hidetaka Miyazaki (Demon's Souls and Dark Souls), this should be one of the best titles of the year. Bloodbourne's release date is March 24th!

Mortal Kombat X – The last Mortal Kombat was a return to fine form for the franchise and it looks like they've only got better with the newest edition, most notably with the return of the popular X-ray moves. Although Sub-Zero and Skorpion were the only recognisable characters when the game was first announced, Raiden has since been confirmed as has Kung Lao. But expect to see some fresh faces when the game arrives on consoles. A significant change that has come with this is that you now must choose one of three possible styles for each character that will determine their special moves and outfits. This adds an interesting level of replayability to the game and is one of the things we're most excited to see how it turns out. Mortal Kombat X's release date is April 14th.

The Witcher 3: Wild Hunt – Voted by VG24/7's readers as the most anticipated title of 2015, CD Projekt Red's much delayed game is finally due out this year. But what is all the fuss about? Well, it's unique in its simplicity. It's a stunning open-world action RPG, unlike its predecessors and follows the series' character Geralt who is now setting out on a new mission to stop an army known as Wild Hunt from invading the Northern Kingdoms. Developers have insisted that it will be a standalone game and that it will not be necessary to have played the others. The Witcher 3: Wild Hunt's release date is May 19th.
https://www.youtube.com/watch?v=QuSoUKvfHi4
Arkham Knight – Arkham Knight is the fourth game in the Arkham series from Warner Bros. Games. The game's main storyline is set one year after the events of 2011's Arkham City and sees Batman confront the Scarecrow who has returned to Gotham City to unite Batman's enemies in a plot to finally kill him. There are many features that will be continuing from the previous games but there will also be some changes, most significantly the introduction of the Batmobile, which is what has everyone so excited about the games arrival. Arkham Knight's release date is June 2nd worldwide.

Unfortunately, that's it for big time release dates this year but there are tonne of exciting games that are confirmed for 2015. Let's take a look…
The Tom Clancy Franchise is Bringing It!
2015 could be the best year yet for the mega-franchise. Building on the success of last year's Splinter Cell: Black List, 2015 will see the arrival of new title, The Division, a co-op based strategic shooter set in a near-future America that has been devastated by plague. It will have the tactical elements of Ghost Recon and Rainbow Six but the environment of Day Z, as you work your way round the open world fighting for survival with your squad.

On top of their bold newcomer, Ubisoft are reviving the Rainbow Six series with Rainbow Six: Siege which has also been confirmed for 2015. Yes, we might be wise to remember the ill-fated Patriots game and how that was pushed and pushed before eventually being axed but when the Siege trailer dropped, it made a much louder noise around the gaming world and with an impressive gameplay demo, it seems promising. As a show of good faith, they have even set up a blog for fans to follow the development of the game. But we'll believe it when it gets a release date.

Lara's Back
The return of Lara Croft and the Tomb Raider franchise last year was an incredible triumph by Crystal Dynamics and so it is no surprise that The Rise of the Tomb Raider will be out later this year. If it's even half as good as the first instalment in this new series, then it will be amazing. Don't forget this one is surprisingly an Xbox exclusive for the time being so you PlayStation fans will have to wait.
Link Turns 18!
That's right! When the Legend of Zelda hits the Wii U this year, it will be the 18th game in the Legend of Zelda series but don't worry. He's ageing well. This will be the first Zelda game released in HD. The world is supposedly going to be more open than the usual type of maps and should allow players more freedom. Legend of Zelda is due out this year but we have yet to get a specific release date.
Other honourable mentions that are topping lists everywhere are Metal Gear Solid V, Uncharted 4, Halo 5 and newcomer Quantum Break. All these games are set for 2015 so keep your eyes peeled for release dates! What game can you not wait to get your hands on? Let us know in the comments section below!
Tags: Arkham Knight Bloodborne Evolve metal gear solid Mortal Kombat X PC gaming playstation 4 Rainbow Six Siege Release Dates Rise of the Tomb Raider Tom Clancy's The Division xbox 360 xbox one