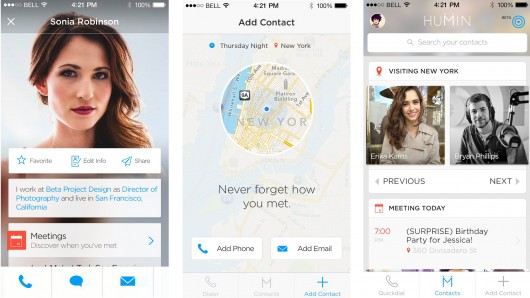 The iPhone is synonymous with ease and comfort. We no longer associate people with phone numbers like we did in the past, although some of the technologically challenged still write down numbers in a physical diary.That is a far cry from the millenials' approach. The best way to look up someone, at least in 2014 is by either googling them or hitting up Facebook and Twitter. Most of us take a Facebook or Twitter username, a number, email address etc., which is a lot of information to process and organise. However, Humin is here to save the day.
Humin, according to co-founder and CEO Ankur Jain is the best replacement. The app, available on the App Store was recently launched at a private beta launch party attended by Richard Branson, Will.i.am and Peter Vesterbacka, the genius behind the addictive Angry Birds. On an intriguing note, Humin scans your iPhone for contacts from Facebook, LinkedIn, and the regular ones. Email, voicemails and calendars are scanned too, just to provide context to the people on your personal directory.
Humin's operation is comparable to LinkedIn's latest Connected app. Connected, the iOS version of LinkedIn provides information that is indispensable in the professional world at least for professionals. Humin, like Connected, will tell you how and where you met a contact, where they work and how you've connected. What's more, it alerts you whenever a contact updates information, is visiting you or has scheduled a meeting with you. Humin's approach takes it beyond LinkedIn's professional circle and includes personal information. The fascimiled approach lets you know when and with whom you've hung out last, alerts you on common friends and let's you know if anyone is available for a social call later.
Jain explains Humin's approach as, "Think of it like page rank for people. Every set of search results is ordered to show relevant people based on the user, time of day, place, etc. Say you can't remember someone's name, you just type in the search bar "met today" or "met last week." "It's designed the way you think."
Humin's team realised that the current contacts system has been archaic just like the way the internet organised information earlier. Google, who ushered contextual search obviously has had a profound influence in developing the app. He explains, "I wanted to create a way to find your connections the way you actually think about them."
With privacy being a major concern, this app isn't the replacement social media hermits will appreciate. The app needs you to disclose information that will provide a social context to your friends. Jain, who understands that privacy can be a major concern, says the app encrypts and retains its incognito status. It will not send out any texts to friends you personally don't approve of, but the app still needs you to verify contacts. Should you choose to verify, an email goes to all your contacts. If skipping it is necessary, simply go to the verify modal and hit stop. That should bring the process to a grinding halt.
Humin is smart. Jain says the app will learn relevant details over time. The app learns all it can about a contact, rummaging through every possible social media platform, calendar event, email and voicemail he or she ever used publicly. The system also allows you to identify the friends you have in common making the social media experience an easier one for users.
Humin's launch comes at an opportune time. Apple plans to launch the iPhone 6, iOS 8 and may be some smart wear too. Humin, only adds to the level of innovation Apple seeks to usher with their latest launch. As an Android user, Humin is the perfect replacement to either stock or third party apps. Sadly, the app isn't available to the platform for now. The app, over time, will be available to Google Glass, Android and as a navigator in cars. Hopefully, Humin lives up to Steve Jobs' promise of 2007 when he launched the Contacts app. The legacy of using the app "like never before", is Humin's for the taking.
Tags: Ankur jain app store apps conatcts facebook Humin iphone messaging Richard Branson text twitter Will.i.am