Who says you can't have your cake and eat it too? If it's Android I'm sure you can. One of the biggest selling points Android has is the fact that every little thing can be customized and designed to your personal taste.  Sure Google does come with the standard keyboard, but it's a basic keyboard. Yeah it can do all that a keyboard does, but doesn't really do anything more than that. Think you can do better, read on.
Swype:  Ever figure what you can do with a keyboard other than just tap or type? Apparently you can swipe. Swiping is running your fingers on the alphanumeric keys of the board to form full words. I  see it as a touch based developed T9 keyboard. Renaming their product Swype, Nuance Communications, Inc has integrated a keyboard that can tap, type, swipe and take dictation withthe powerful "Dragon" dictation software and give you an all-powerful keyboard. Chances are that one in every 5 people have heard of Swype and what it can do. Swype offers to collect information, omit passwords, save your own words to add to your dictionary  or a cloud based service so you can use Swype on any phone/tablet easily. Apart from these features, bilingual support, accessibility options, custom gestures, auto-correct, a smart editor and voice/text dictionary sync are also added to make the only board that has the bragging rights of being the fastest keyboard to type a text message. Ask Guinness and the 250+million people who use it, and I'm sure there are things that they'll love about it.
For those who want to try alternatives to Swype, there's Swiftkey and TouchPalX. The only difference between SwiftKey and TouchPal, is the the latter is free. TouchPalX is also an award-winning keyboard that introduced the TouchPalX Curve, taking the swiping from Swype to not only form words but complete sentences! You can't expect any lesser from the winner of the Global Mobile Innovation Award, for not only developing this technique but also making better use of on-screen space.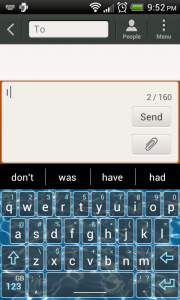 Magic Keyboard: Imagine a keyboard that can predict and correct your typing with incredible accuracy and speed, making typing easier and faster. As you type, Magic Keyboard analyses millions of word-chains to decide what you're about to say based on your previous input.This means it can understand what you're typing and help you along! If you're heavily into themes and playing around with the look and feel, then this is the keyboard for you. With more than 500+ emojis, auto-correct, a profanity filter, multi-touch and a designer for themes, Magic Keyboard is the best one for you.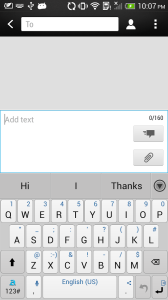 Adaptxt:  Integrating GPS into your dictionary to update the keyboard based on your location automatically is Adaptxt's USP. The keyboard allows you to save the location you are in and updates the geographical information for you. The perfect keyboard for frequent traveller, the keyboard does learn from your personal style, subject based conversations, GMail, Facebook,and Twitter. Adaptxt also silently updates your vocabulary with the latest trending words so you'll never be out of touch. With 93 languages, 44 industry specific dictionaries, custom shortcuts, language-specific layouts, and a Share key to post directly from the keyboard, Adaptxt does offer personalized customisations to the layout too.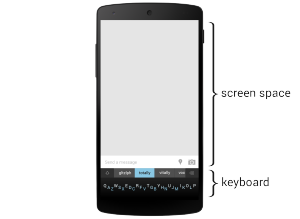 Minuum: Imagine  you had a 4″ phone and big fingers. Tapping sure is a pain and swiping is just out of the question. What do you do then?  Simply switch over to Minuum, the keyboard that fixes both these problems. It works on smart phones and smart watches and is highly recommended. Minuum claims that after you spend 15 seconds on its introductory video, you'd be using the keyboard like a pro. Fast and easy to use the keyboard, has an auto-correct feature that corrects even the sloppiest of users but is delightfully fast. With immediate access to 856 emoticons and instant access to a thesaurus, dictionary, Google search, and share functionality all while monitoring your typing speed. With 6 and more languages being added to the database, Minuum's selling points are the smart use of screen space, fast sloppy typing, key magnification for large fingers, different keyboard layouts and multi-tasking. With rapid gestures and voice typing that is basically a feature on all the keyboards mentioned above, hands free typing also allows you to use Minuum just as easily as the others.
Flexpansion: The text based language that mobiles developed in the early 2000's was one of the literary developments to happen in a long time . Imagine if all future literary works written that way ! Anyway as an ode to the ua trio ofse of the modern lingo, Flexpansion, developed a keyboard that takes in the mobile input and then transforms it to English. Claiming that it increases the typing speed by almost 70%, the keyboard expands abbreviations as you type and let's you focus on the text and not the input itself. With a turbo that coverts words like txt, msg, spk, and b4 into English, this app is based on the phonetic sounds we produce and with an auto complete feature, figures out the word that is meant to be entered followed by the next one.  A trio of  auto-complete, auto-correct and auto-word prediction seem to make this keyboard a hit with many users. With gesture based short cuts and the feature to learn from your GMail, Flexpansion seems to be gaining a steady foot in  the keyboard market.
Check these apps from the websites mentioned and try them out! Personally Swype is the best, but that's just me. If you differ we'd love to try your suggestions or maybe find a new keyboard altogether.
Tags: Adaptxt apps Flexpansion keyboards Magic Keyboard Minuum Swype