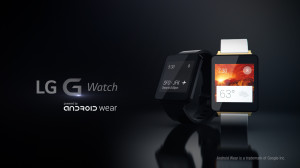 Mankind is in the centre of the wearable technology revolution. We are in a time of experimentation, bringing the user and technology closer than ever and we are trying to create a society where wearing technology is a social norm. Over the last year we have heard from the likes of Google Glass, Android Wear and even wearables that draw energy from the human body. I want to draw your attention to the smart watch industry.
For the past month my wrist has been rocking the LG G Watch – one of the first watches to run Google's wearables platform, Android Wear. This platform was arguably one of the most exciting announcements of last year. I want to tell you why I returned to my non-smart watch in place of this new exciting platform. The thing is, we're not ready for these wearables, or more accurately the wearables aren't ready for us. When users buy a watch they primarily look for two things: usability and design.
First and foremost, can the watch be used to tell the time and how does the watch look? Yes, these smart watches can tell the time, but not always. In bright sunlight their displays become incredibly dim, making it hard to even tell the time. An exception to this is the Pebble.
A watch should be an item we can wear all day and is un-intrusive and useful. These fundamental qualities of a watch should be carried into the smart generation, but their execution is far from being smart. The battery life of the current generation smart watches fail to please, lasting less than a couple of of days. The Android Wear watches have a built-in alarm function that vibrates your wrist, however with the fear of the battery life dying by the time you wake up in the morning, this function becomes redundant in the real world. The notification system forwards all notifications to your watch, making it an annoyance, anything but un-intrusive.
What does the future hold for these smart watches? I believe there is a lot of potential in these devices and their functionality will grow as more developers create apps dedicated for these watches. The idea behind these watches was that we wouldn't have to glance at our smartphones to stay connected to our digitial world, however navigating menus on smart watches becomes a tedious chore. For now, I'll stick with my normal watch. When these watches can become un-instrusive and hold a striking design I may reconsider getting one.
Tags: Android android wear gadgets Google google glass LG LG G Watch mobile smart watch smartphone technology watches wearables