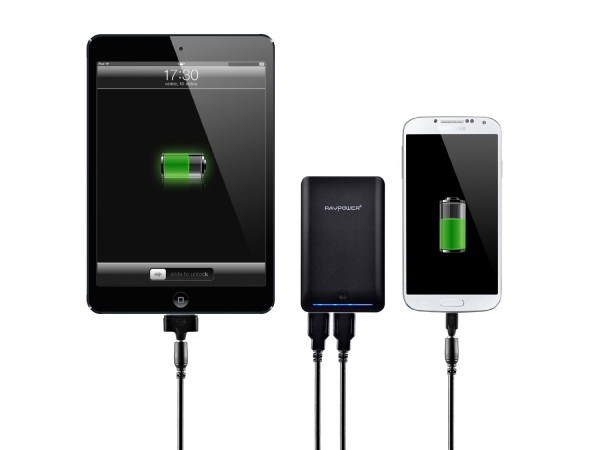 Gone are the days when a mobile phone would last you a week, your trusty old brick Nokia phone that would eke out its battery to let you play just one more round of snake. Now you'll be amazed if the battery on your phone lasts more than a day. Whilst your current phone can run rings around the old Nokia, the battery life still remains an issue. 

RavPower have come up with a solution, their 14000mAh Power Bank mixes portability with power. It has a fantastic capacity for a device that's so compact and is reasonably lightweight, at just less than 300g.  The results back it up, on separate charges of the RavPower Power Bank, I was able to get 4 full charges out of it with my Nexus 4 and almost 3 charges for my Nexus 7.
Aesthetically the RavPower Power Bank is rather understated and unassuming, available in either a matte black or white finish; it compliments well with most phones and tablets. The power bank is sturdy and well made. At the push of a button the 4 LEDs indicate the battery life of the power bank and by holding the button down a weak, but somewhat useful flash light is activated at the bottom of the power bank. In terms of size, it's compact but it's not something that will comfortably fit in anyone's pocket.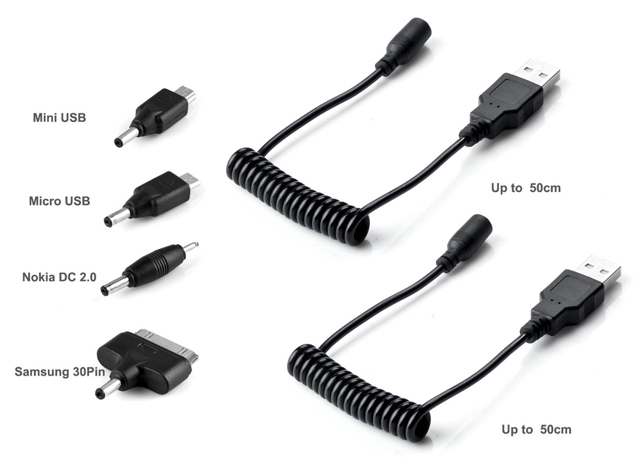 The RavPower Power Bank is charged through a micro-USB and takes around 6-8 hours to charge to full capacity, which is reasonable given the amount of charges I was able to get from it. As for connections the power bank has 2 USB connectors, one with an output of 5V/2A for charging larger devices such as tablets and the other has an output of 5V/1A for mobile phones. Handily, both output ports can be used concurrently to charge two devices at once.
Included in the box are two multi-purpose USB cables, with appropriate adapters: micro-USB, mini-USB and 30 pin connector for older Apple Devices. These cables feel rather cheap and I was put off by the fact that they are coiled, akin to a traditional telephone. Of course you can use your own USB cables, which is necessary if you own an Apple device that uses a lightning connector. It should also be noted that an AC adapter was not included, so to charge the RavPower Power Bank, you'll have to provide your own or charge it through USB.
As expected, charging a device from the RavPower Power Bank takes longer than from the socket. On average it took around an hour longer than it would from a wall supply. For optimal charging times I wouldn't suggest charging from both outputs at the same time, although it is a nice feature.
Overall I was impressed by the RavPower 14000mAh Power Bank, for a few hours charge you really get a lot of usage from the power bank. I would definitely recommend this to people who are away from home a lot, it'd be perfect for festival weekends or camping trips. Providing the different adapters and two USB cables is useful for those that don't have any spares to use. The charging time is rather long at 6-8 hours but this is offset by the number times it can charge a phone or tablet. It's also well priced, currently listed on Amazon for less than £30.
Tags: Android apple battery battery life charge charger portable power bank ravpower smartphone