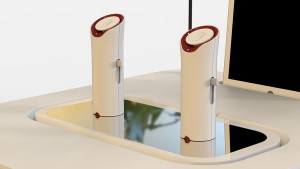 How many of us have received photos of mouth watering meals or drinks via smart phone and tried to imagine the smell of that freshly made cup of coffee the sender is so enviably enjoying?
Scented Text Messages via oPhone:
Luckily scented text messages are fast becoming reality with the already available free app, oSnap, and the accompanying oPhone device. Invented by David Edwards of Harvard University and a team of talented students, the oPhone is certainly the next technological step for food enthusiasts, or foodies.
Available for iPhone users, oSnap allows for scents to be sent along with photos of your favourite foods via text message. Users will be able to tag up to eight scents and attach them to a photo. However, the app requires an oPhone tabletop device which will be available only if the app's Indiegogo campaign, which ends June 31, is successful. The app sent its first scented text from Paris to New York on June 17 and created quite a buzz, pushing the campaign total up to $9,000 after just 4 days.
Check out the official introduction to the oPhone by Vapor Communications:

So, how does this cool piece of tech work? As explained on the Indiegogo site, the oPhone "is able to diffuse over 300,000 unique aromas thanks to the small, inexpensive circular cartridges we call oChips, that fit inside the device. The oPhone DUO works with 8 oChips and each oChip contains 4 aromas – so the oPhone DUO works with 32 primitive aromas." What's more, the oPhone seems to top previous attempts at scent-text devices, as it supposedly doesn't leave any lingering odours; the scents emitted from the device are contained to the individual's nose alone. Vapor Communications hopes the oSnap app will one day be able to detect foods within a photo and automatically tag it with the appropriate aromas.
Smell can create powerful emotions and memories, so maybe it's about time that technology explores these ideas further. Will aromatic communication and scented text messages take off?
Tags: Apple app iphone iPhone app oPhone oSnap scent technology scented text messages scented text messaging