The power of technology isn't only useful in advancing our day-to-day activities with creations designed to make our life easier or astound us with impressive innovation. Vodafone have designed an app whereby things that the western world has long taken for granted, can be given to more impoverished nations. The flagship of this bold and inspiring endeavour is Mary Kom's First Female Fightclub which is currently being developed in India.
Most of us will be aware of the plight suffered by women in India and of the recent cases of horrific rape carried out by Indian men who think they have a right to, and in some cases even own, a woman. It is almost certainly fair to say that where there is a lack of education, women can sometimes as the physically inferior gender, be forced into a kind of sub-class that must obey and adhere to the will of men.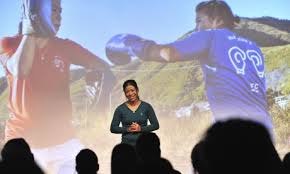 Mary Kom's initiative intends to put an end to this and so far it has been creating quite a stir. Vodafone are helping Mary to transfer her martial arts prowess through their specially designed app to thousands of women across the country so that they can have a better chance of defending themselves in the event of needing to use self defence. If Mary can overturn the physical advantage a man might have over a women, then she hopes she will be able to save several would-be victims from what would otherwise be a life altering disaster.
Although hearing about 3D printing and Google Glasses and other incredible innovations on a daily basis keeps us in awe of the tremendous advancements of technology, what is truly awe-inspiring is to hear of technology, of a more basic kind, being used to help save people's lives, and that is exactly what Mary Kom and Vodafone in partnership are achieving.
Tags: india mary kom technology vodafone