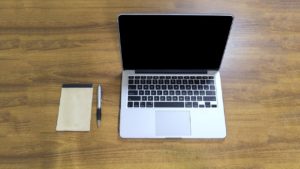 The iPad Pro 10.5 or the MacBook – what's really more worth it?
I'd like to admit first and foremost that I'm an Apple fanboy and a geek. There we are. It's out of the way now. I find it hard to like anything that's not Apple, especially Android, and this is why I don't critique products because the balance would always be tilted in the forbidden fruit's favour. So this one's purely for the fanboys.
Sometimes, the best opinions come from casual users and not professional reviewers. Most people, but certainly not all, don't use their MacBooks or iPad Pros to test 4K video editing and graphically intensive tasks (which make no mistake, if benchmarks are anything to go by, the iPad Pro beats some of the MacBook Pros). But it's probably silly for anyone to do this on what is essentially a mobile operating system.
I think the definition of what a computer is has changed over the years and until as recently as 2007, only two real computing platforms existed – Windows and MacOS. Then the iPhone launched and bought with it a brand new OS – iOS. Not one that was derived from another computing or mobile platform but an OS built ground up for the iPhone and I don't think even Apple knew back then how big it was going to be, and perhaps one day change computers forever.
My normal computer usage looks like this – I browse the web, listen to music, watch videos, send a few emails, and work on a few spreadsheets. This isn't the first time I've had an internal conflict about choosing between a MacBook and an iPad. I have gone cold turkey on the Mac twice before and returned to it a short while later swearing not to return to the iOS platform again because as a productivity tool it was limited in its feature set and a bit clunky. Then Apple announced iOS 11 and the iPad Pro 10.5, and I couldn't believe what I was seeing. Had Apple finally created the perfect hybrid computer that could finally replace the Mac? 3 days later I had the iPad Pro, the Smart Keyboard, and Apple Pencil. If I was going to take the plunge (yet again), I might as well go all out.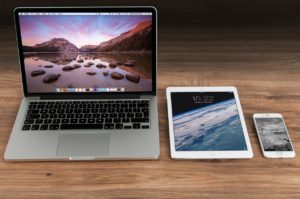 I love Apple's decision to go with reduced bezels because it does make that screen pop and oh that screen! At 600 nits brightness and 262 pixels per inch, the display is one of the best I've seen on a mobile device. The colours just pop and text and images look super sharp. It also includes Apple's new Pro motion tech which is basically a 120Hz refresh rate and translates to smoother scrolling in Safari and improved Apple Pencil latency but honestly most people wouldn't be able to tell the difference it makes to scrolling through webpages. The whole device is put together really well and has a premium feel to it when held. 4 speakers placed around the device sound fantastic and really help when consuming media on the iPad. The Touch ID sensor is accurate but I am disappointed that Apple didn't choose to put the haptic button on the 10.5 inch pro like the iPhones. There's great front and rear cameras, however I doubt the iPad is going to be used to take a lot of pictures but if you need to, the quality is great and the 12 megapixels rear sensor and 7 megapixels front HD camera won't disappoint. They could have got rid of that unsightly camera bulge on the back, but hey I'm just being picky now.
So I put the Dev beta of iOS 11 on it (do so at your own risk) and armed with the Smart Keyboard Apple Pencil I was off to be productive. Now, iOS 11 is a big change for the iPad. When Apple says it's a giant leap for the iPad , it isn't exaggerating. Everything is buttery smooth (even on the beta) and using drag and drop and the plethora of new gestures makes being productive with the iPad Pro a doddle. Now, for those of you coming from a MacBook, using iOS 11 and the iPad Pro as a computer does take rewiring of your brain; after all, using a display that's fixed to a keyboard and the mouse pad has been around ever since most people can remember so it's no mean feat to get yourself used to a whole new system of working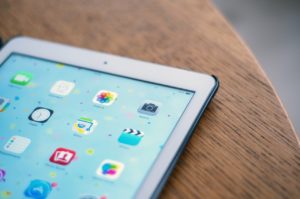 Multitasking is great and Apple has implemented a whole set of new gestures that make working across multiple apps a piece of cake. In a week I was swiping, multitasking, using drag and drop and working with multiple applications like a pro (pun intended) and I just found working on it a whole lot more fun than the MacBook. I think one of the biggest advantages an iPad has is sheer portability. I was able to carry it around the house watching videos on YouTube and simply put that keyboard away when it wasn't needed, which is not something you can do with a Mac.
Do you really need a massive keyboard when all you want to do is watch a few videos or browse Facebook? Using the photos app is a whole lot easier on the iPad as well. Photos sync almost instantly between your iOS devices (I love the LTE syncing option on the iPad Pro for photos; just make sure you have a massive data allowance), which in itself is a major restriction on the MacBook. With most of us now living connected lives, the lack of a data connection on the MacBook is quite off putting. You have to wait till you are in a WiFi zone to be able to sync anything at all especially if you do a lot of work with cloud storage, and I reckon this is a deliberate attempt on Apple's part to differentiate between the two product lines and slowly migrate people over from Mac OS X at the lower end occupied by MacBook Air to iOS.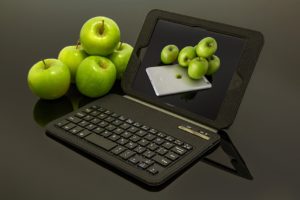 The Smart Keyboard is a great addition as connecting it to the iPad does free up a lot more screen real estate to get work done without the onscreen keyboard taking up almost half the screen in landscape mode. The keys provide good tactile feedback and even though it's made of hard fabric, I found the overall experience very satisfying and comfortable. Even when casually typing on the glass I find it extremely easy as the 10.5-inch screen allows for a full size virtual keyboard and keys that are well spaced out. When you finish using it just unclip the keyboard from the smart connector, and you've got a lightweight tablet to use for reading in bed or simply consuming media.
The Apple Pencil, although not as useful an accessory as the keyboard, especially if you're not creatively inclined, is nonetheless a great tool to use as a pointing device for the screen or to simply sign documents. Business people who have to sign a lot of documents are going to appreciate just how easy it is to annotate PDFs with the pencil and email the attachment back. I also love how iOS 11 allows the pencil to instantly launch the notes app by just tapping the screen.
Performance-wise, this thing is a beast. Apple has made some really strong chips in the past and the A10X fusion chip delivers incredible levels of performance and coupled with 4GB ram the iPad could handle almost anything you threw at it.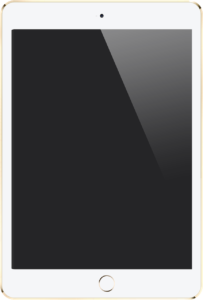 But like every review, this one needs to be balanced too and not everything about the iPad is perfect. For starters, there's no backlighting on the Smart Keyboard, something we've grown accustomed to on the Macs, and it also has one viewing angle only that makes things a bit awkward. Whilst the iPad can handle multiple tasks with ease, it would be nice to have two instances of Microsoft Office open simultaneously in split view because trying to copy and paste data from one spreadsheet to the other is a giant pain. Hopefully, Microsoft is working on an update that would allow this form of multitasking in the not-so-distant future. So if you need to constantly work with multiple spreadsheets then this isn't the device for you. Yet. Also annoying is that Apple hasn't built a holder for the pencil like the Surface Pro, which makes it a bit awkward to store away when not being used. I wouldn't be surprised if people started to lose this very expensive accessory.
I do understand that for a lot of consumers, the convenience of a laptop, especially given how unbelievably light the MacBook is, will be a better option. I, however, have had the iPad Pro for just over 6 weeks now and in all those weeks I haven't even booted my Mac up once. So it's now waiting for a new owner on Amazon Marketplace. I might miss it once it's gone, but this is probably just the emotional fanboy in me not wanting to let go of anything Apple.
Tags: apple computers iPad Pro MacBook