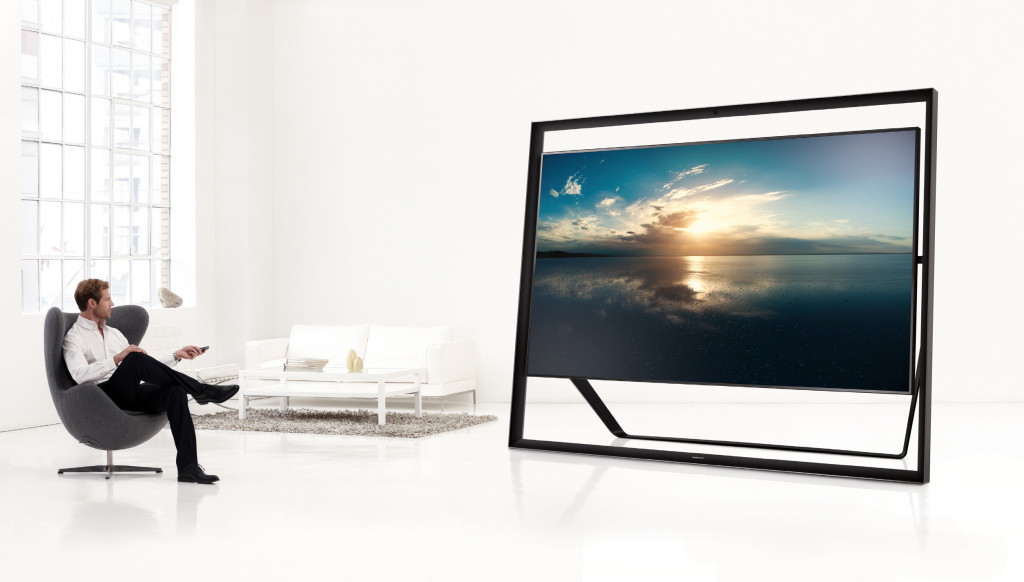 Following in the wake of CES 2014 earlier this month, the biggest names in global electronics have begun lining up to unveil their latest projects, aimed at changing the way we, the ever insatiable consumer, view and interact with our television sets. Generically referred to as 4K TV, or Ultra High Definition TV (UHDTV), this latest initiative by the big corporate giants, such as Sony and LG, endeavours to become the next big thing in telecommunications and is already the latest point of discussion in the electronic entertainment industry.
4K TV sports the latest in High Definition technology, boasting a super sharp frontal display demanding upwards of 3840×2160 pixels – approximately four times the resolution available on current HDTVs – and a host of additional smart features including social media integration (Twitter, Facebook etc.), cross-platform freeware and a range of premium TV services such as Netflix, Blinkbox and LoveFilm, with some of the recently announced sets from Sony even featuring buttonless remote controls.
Unlike its competitors, 4K emphasises core image quality. Most HDTVs on the market today are occupied with refining the the pre-exisitng display technology  by exploring secondary issues such as visual response time, depth of display, and cosmetic structure of the TV itself. 4K, on the other hand, aims to rejuvenate the fortunes of the global TV industry following a decline in sales of flat-panel sets over recent months, attributed to waning consumer interest which has resulted in brands like Sony and Panasonic being forced to make cutbacks.
It wasn't long ago that OLED (Organic Light-Emitting Diode) TVs were being anticipated as the next imminent leap in the evolution of TV, but the technology has proven cost prohibitive for manufacturers and remains difficult to produce in sufficient quantities to jutsify wider market demand. Although OLED technology hasn't been written off just yet, 2014 is increasingly geared up to be the year that 4K TV finally becomes a mainstream alternative for potential buyers across the UK and elsewhere.
There are a few drawbacks to the technology, however. 4K television has been on the market since last year but has remained distinctly incognito; partly because of its expensive price point, but also due to the conspicuous lack of dedicated 4K content – similar in many ways to the incrementally slow rise of HD-Ready TV in the mid-noughties. There's also an additional lack of comparative infrastructure to support 4K, since streaming, or even transmitting, Ultra High Definition content would prove near-impossible for the majority of internet users without an extensive next-gen upgrade to existing broadband networks.
In addition to sharper image quality and a significantly larger display, 4K will deliver improvements to areas such as contrast, brightness and a much greater variety and depth of colour thanks to its patented triluminos technology. Although Blu-Ray has yet to make the quantum leap to 4K, the BDA (Blu-Ray Disc Association) is expected to announce more details toward the end of the year. It's also worth mentioning that Sony has plans to gradually introduce a steady stream of 4K content via its Video Unlimited service.
Pricing and availability for Sony's latest range of 4K Ultra HD TVs should be announced sometime this spring, but in the mean time check out the video below for an in-depth look into Sony's flagship line-up.
Tags: 4K 4K TV BDA CES 2014 Flatscreen LG OLED Panasonic Sony UHDTV