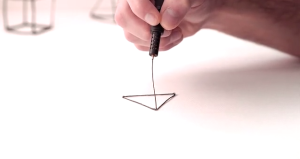 3D printing is a relatively new and popular technology on the rise. But forget those bulky and expensive machines; 3D printing now comes handheld and at a fraction of the price. Thanks to the LIX pen, consumers are able to get a taste of this awesome new technology.
The first 3D printing pen released earlier this year was the fairly bulky handheld 3Doodler device by Wobble Works. LIX is the latest contender in the handheld 3D printing field and there has been a lot of buzz surrounding the new printer/pen due to its remarkably smaller size – no bigger than the average ballpoint pen.
Handheld 3D Printing
Check out the popular LIX 3D printing pen in action in this video:
LIX pens are simply powered via USB port and are available to purchase for around $140 each on Kickstarter. Of course, unlike 3D printing machines, LIX does not require a program to guide the creation of the design – though perhaps a very steady hand and some artistic ability will be needed. It takes less than a minute for the hot-end nozzle to melt and cool the coloured plastic filament, allowing the user to create any imaginable freestanding structure. Each filament rod is about 10cm long and will last for about two minutes of 3D drawing. The aluminium-cased pen is only 16cm long and 1.5cm in diameter, containing a 3.5mm jack for connecting to a computer via cable. The pen can heat to over 150 degrees Celsius but only needs to reach a temperature of 85 degrees to work.
This masterfully engineered, light-weight pen has been celebrated by critics as it introduces new and simple ways of working with forms and model-making in the art and architecture industries. And while traditional 3D printing machines are great pieces of technology used for creating large, solid objects and design elements, the LIX handheld 3D printer is the obvious standout product for consumer-grade 3D printer technology.
Tags: 3D printer 3d printing gadget gadgets handheld 3D printing technology