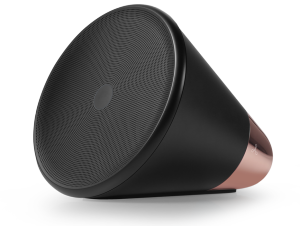 There's neither wires nor Bluetooth connectivity on these speakers, but Aether's Cone does play music, although one doesn't always get to choose what tracks to play. Not just a modern and glamorous speaker, the Cone is an audio "thinking device," and don't let its simple exterior fool you, because it is as futuristic as it gets.
Well, if it isn't wired or connected by Bluetooth, Wi-Fi has to be the only logical method this speaker uses to  stream music from services like Rdio and Spotify. The Cone scans online libraries and playlists to play music automatically, while adding similar songs to the playlist if you leave it be. Should you want to skip the song, turn the front of the speaker to the right. The "thinking device" will eventually learn your personal taste in music and dish it out each time you want to unwind to some.
Choosing you favourite song on the list is à la Apple's Siri. Tap and hold the button in the centre and tell the Cone the name of the song you want to hear. The voice activated artificial intelligence assistant will scour the playlist and stream it, no matter where it is. The volume rockers that control the volume on the Cone are, perhaps the only controls apart from the invisible, yet touch enabled central button. With a built in Li-ion battery to provide 8 hours of continuous playback like most devices, the 3-in-one woofer with a dual tweeter design provides natural stereo sound. 
Apple's fans will be glad to know that the Cone is designed to work with your Mac, iPhone, iPod or iPad. Apple's AirPlay feature lets the Cone scan your iTunes library available locally to play anything you want to. Make sure that the Mac is running Mac OSX "Mavericks 10.9+", and your iPhone for instance runs iOS 7 and above to get the best results off the Cone.
Incredibly modern and simple, the Cone with its chic design and dual-toned hardware designed in plastic and metal fits easily into a minimalistic home, injecting the modern glamour it needs instantly. At a price of US$399, the Cone is currently in stock and available in two dual shades – copper and black and white and silver. Cone is currently available exclusively to Rdio Unlimited subscribers.
Tags: Aether's Cone apple bluetooth iOS ipad iphone Rdio Siri Spotify Wi-Fi