At the last Eurosatory exhibitions combat-ready vehicles were one of the number-one attractions. Among them, the top of the class might very well come from the Munich-based ARTEC GmbH, the design program took many years but the Boxer could be tomorrow's go to vehicle for many armed forces.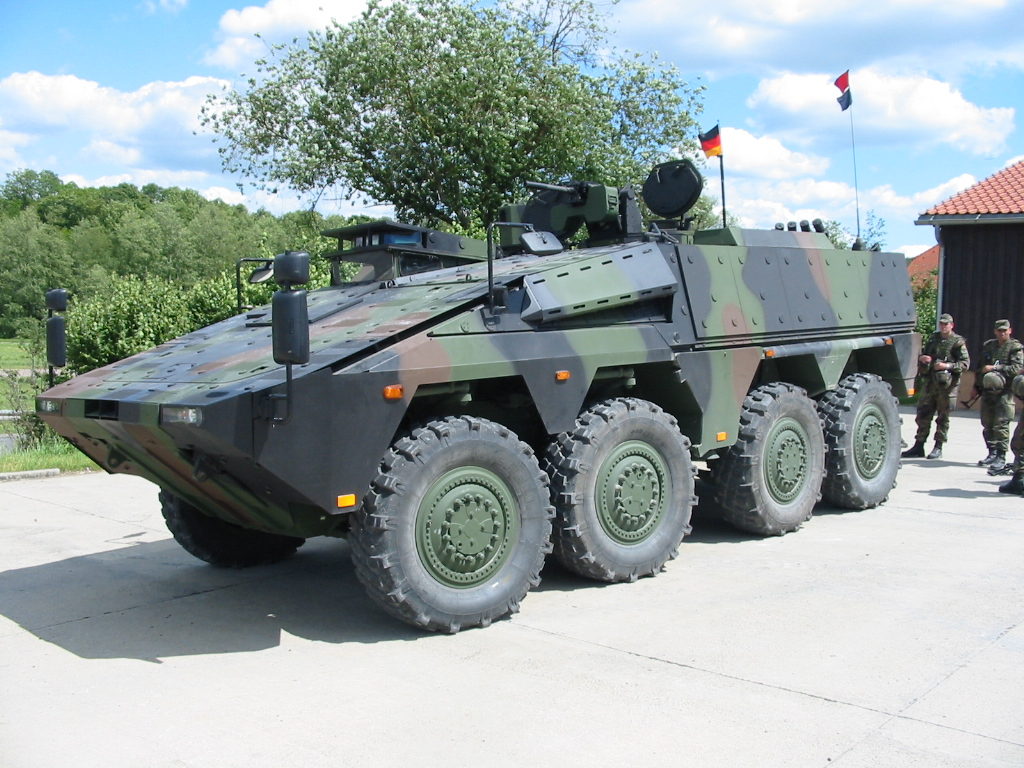 The first thing that you notice while looking at the Boxer is its size. It's a 33 tons eight-wheeled multirole vehicle that appears to be much heavier than its contemporary combat vehicles (about 10 tons heavier than most vehicles within the same role). But its weight makes it amazingly resistant and flexible. The Boxer can be adapted to different tasks and missions via its eclectic 'mission modules' that can be interchanged 'within an hour'.
When it comes to armament, the Boxer(s) can be tremendously surprising and flexible as well. Most of them are equipped with a RWS (Remote Weapon Station) for self-defense usually either a 7.62 mm MG3 or a 12.7 mm M3M Machine gun or a 40 mm grenade launcher. But the Boxer also allows a fire upgrade of a 20 or 30 mm auto cannon or similar.
And last year, the vehicle was even tested with artillery. Krauss-Maffei Wegmann has confirmed that they recently fitted its 155mm Artillery Gun Module (AGM) to the ARTEC Boxer (1).
Its unmatched weight and durability within that category make this vehicle able to support this kind of task which is almost unheard of thus far. Even though it is unlikely that the Boxer becomes an artillery vehicle, its capacity to hold a remotely operated turret like the 155mm/52 calibre is almost unprecedented and truly impressive.
ARTEC also placed its 'German state-of-the-art quality' into building an armor that'd be resistant to a fitful of situations. The Boxer is built from rolled steel plates topped with a shock-proof composite, ceramic and metals armor. This heavy armor makes the Boxer one of the most resistant vehicles of its category for both ballistic and IED protection. And even if the armor was to be penetrated in the fire of a battlefield, the crew compartment is completely covered by an AMAP-L spall liner which stops most of the fragments of the armor and projectiles.
Thus far, the ARTEC Boxer is being operated by both the German Army and the Royal Netherlands Army. Both expect the delivery of hundreds of additional vehicles in the coming years. They have already tested the boxer in combat situation (including in Afghanistan in 2011 for the German Army) even though the vehicle hasn't been under fire in the battlefield.
The Boxer's tested mission modules have been as different as armored personnel carrier, command post, infantry fighting vehicle, ambulance, cargo, battle damage repair, artillery gun module, etc.
Both the German and Dutch base vehicle are identical but the ARTEC Boxer has proven to be very flexible and offers many variants when it comes to its mission modules. It is delivered to Germany in four different versions and to The Netherlands in five different versions.
Its flexibility and level of protection makes it one of the heaviest vehicles in its category especially at a time where portability is essential and many armed forced are looking for 'lighter vehicles' than before. One of the concerns was the air portability of such a heavy vehicle but the ARTEC Boxer is designed to fit large carriers like the A400M.
The Boxer is designed for an in service lifetime of some 30 years just like most of its contemporary vehicles. ARTEC Boxer is very similar to other 8×8 APC in terms of mobility and protection, but its specificity lies in its removable payload container. This is a highly innovative concept, and ARTEC Boxer is a well-balanced compromise between versatility, protection and mobility.
In some respects, its opponents would argue that Boxer is like all compromises: neither all bad, nor entirely satisfactory. It's also true that the removable payload container is a complex and heavy system, and almost never utilized to its full potential by armies that operate Boxer. In parallel, what makes most of the difference with other vehicles of the same class is its long development phase which started in 1999 (taking end only last year – even if technically the deliveries started in 2009). Such a development cost more than 2 billion euros (2). But it is no secret that quality, and all the more so 'German Quality', comes with a price…
When it comes to costs, and regardless of the chosen modules, the Boxer appears to be much more expensive than its competitors. It doesn't seem to be an issue for its two co-developers Germany and The Netherlands that have chosen this top-notch vehicle for the future of their ground operations. No doubt that the Boxer will remain one of the top elite vehicles of this decade.
(1) Boxer tested with AGM (ES14E4), IHS Jane's 360, June 14th 2014
(2) http://www.occar.int/34
Tags: APC Armoured Artec Boxer Germany