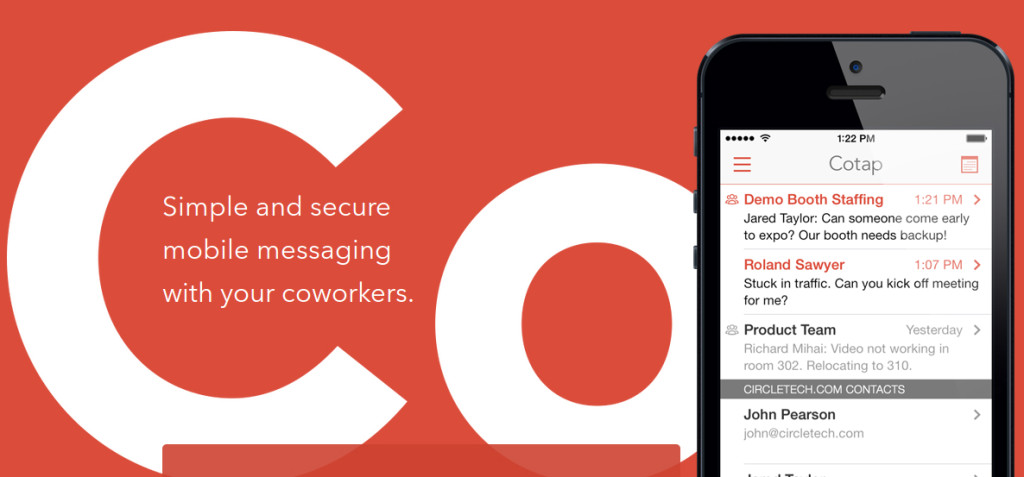 Isn't WhatsApp the coolest thing around? Being able to keep in touch with people all over the world at no additional cost is a blessing when you can't afford the heavy prices carriers offer. Offices or places of business have a lot of Wi-Fi, but firewalls usually prevent you from using the app. If that is the case, why don't you consider Cotap, a perfect alternative to WhatsApp, with its additional features.
Zack Parker and Jim Patterson, who've worked with Yammer launched the WhatsApp alternative for the workplace last year, but with its current update, Cotap can do more than just text. With their latest update, Cotap integrates file sharing with their messaging service. Google Drive, Microsoft's OneDrive, Box and Dropbox are integrated with Cotap in this update. Introducing native desktop and web apps to the Mac OS platform for the first time when there isn't a tablet or smartphone around, Cotap did well by introducing an Android and iOS app to capitalise on downloads.
Patterson, currently the CEO of Cotap is backing the release of the app on two of the most popular mobile OS platforms at a time when he has scored almost 10,000 business customers. The specifics do not include individual users, but with the response it has currently generated, he will aim to hit the one million target sometime in the near future. The ex-Yammer executive brings his expertise and venture opportunists like Charles River Ventures to Cotap. Co-incidentally, Charles River Ventures backed Yammer started in 2008, until they were acquired by Microsoft in 2012 for a price of US $1.2 billion paid in cash.
Cotap built by the ex-Yammer employees, brings the freemium model Yammer was based on, to clients that can range from around 100 employees or more from businesses like the Hyatt's line of hotels or Philz Coffee. What separates Cotap from the others like it, is its clientele. The apps aims to target a market that includes everyone, not just white-collared employees or their bosses, which in hindsight opens up a whole new market.
Patterson explains,"Think of Cotap on a smartphone as replacing and improving on how a large business might have used a walkie-talkie."
The integration of the cloud-based storage options related to this update is a part of a long-term strategy. A positive marketing strategy for Cotap, Patterson believes, the integration allows mass distribution of flyers, the latest marketing strategies, lost and found property and other forms of communicating within the company.
This service from Cotap is based on Box's very own Box View. This stand-alone service by Box that launched earlier this year, allows its users to convert, upload  and view information. Sending a file is as easy as sending a picture via messaging apps, after one is connected to the Box via Cotap. Kloudless, is the application program interface (API) used over all the four cloud-based storage options, offering users an overall powerful search tool over any of the four popular choices.
This integration also gives Cotap an added advantage. It makes the app, a one stop solution for users who use either one or all of the four storage services. For example, you might personally use Dropbox for the files you work on when working on devices not necessarily related to the workplace, but the company uses the Box service for more private and confidential files. This integration allows you to access recent documents that surface on the top on both the platforms, eliminating the need for all three apps to be installed on the smart phone. If you aren't much of a smart phone user, or have a strict no-phone policy at work, or are bound to your computer, the desktop and web based apps are your best options
"Cotap launched initially with iOS and Android, but being mobile first doesn't mean mobile only," he explains. "A lot of our usage was driven by people using iMessage before, and they would like to continue to go seamlessly between what they are doing at their desk and what they do on mobile."
What makes Cotap even better is its synchronised notification system. This means, irrespective of which mobile OS platform in use (Android or iOS), your updates, notifications and messages are always synced. This allows easy transitions from iOS to Android or vice-versa, eliminating an otherwise difficult learning curve – a smart move to retain their customers.
Yammer may influence Cotap's functionality, but as Patterson says, it is "almost the opposite." Yammer, he says isn't targeting anyone in specific, but Cotap has a niche market and develops itself based on what its users need. Slack, a new service may look like a threat for Patterson, but he isn't worried in the least. "I look at Slack as an internal email replacement," he says. "It's topic-based chat rooms that are more similar to IRC or Hipchat." Which is how Slack's Stewart Butterfield has also described it. "If you are a small company or are still using email internally, something is wrong. You should change over to something like Slack if you are communicating at your desk. Especially if you are a dev shop, it's great for development teams. They are integrated with Github and the other tools that they use."
The web app which needs more work before it is launched may take longer than expected, nonetheless check out the app on Google Play, the Mac App Store and iTunes and let us know if you would suggest this to your company.
Tags: Android Box Cotap Dropbox Github Google PlayStore iOS IRC iTunes Store Jim Patterson Mac Microsoft OneDrive Slack WhatsApp Yammer Zack Parker