As a PC gamer, having the right mouse can make the difference between fragging some noob and dying. With the current rise in competitive e-sports the need for the right mouse is more important than ever, and as they don't come cheap you need to make sure you make the right choice. To me there are three key factors to the right mouse: sensitivity, ergonomics and buttons.
After much research I decided to get the Cougar 600M Laser Gaming Mouse.
The mouse feels great, even after extended Starcraft 2 sessions (my game of choice) and I don't get any cramping in my hand which I used to with my last mouse. My hand is medium sized and all the side buttons are easily in reach and I never hit the wrong one even when in the heat of defending a Zergling rush. The two mouse buttons have a satisfying click to them, and the wheel feels very solid (and is obviously clickable too).
The Cougar comes with 4 different sensitivity settings which can easily be changed on the fly by hitting one of the two buttons just behind the mouse wheel. This will allow you to change to the setting that's best for you if your playing some Counter-Strike or some Peggle.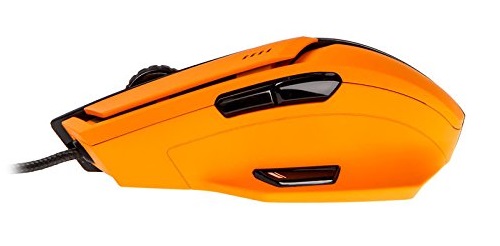 Something has to be said for the looks of the Cougar too. I've got the orange version and lets just say it stands out, but in a good way. It is a very well made mouse that feels solid. I game on my MacBook Pro and often take it with me to game at my friend's house and I'm 100% confident it's not going to malfunction. The wire is also made of mesh and feels very sturdy, so it's not going to break either (something that has happened to me in the past!).
I would highly recommend this Cougar if you're looking for a great all round mouse. I'm no pro gamer, but this mouse has definitely upped my game and I'm looking forward to climbing further up the Starcraft 2 ranked ladders with its help.
Tags: gaming mouse PC gamer