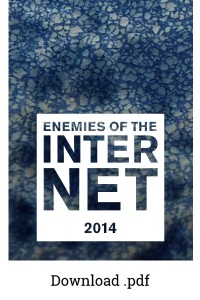 In it's Enemies of the Internet 2014 report the watchdog 'Reporters Without Borders' has named England as an enemy of the internet.
The report also names India and America, saying "government bodies designated by Reporters Without Borders as Enemies of the Internet are located in democracies that have traditionally claimed to respect fundamental freedoms: …the Government Communications Headquarters (GCHQ) in the United Kingdom".
England is not named as a whole and the report goes on to say  it's "identifying government units or agencies rather than entire governments".
The report goes into more detail: Tempora, a GCHQ operation, sought to weaponise the internet and trample on freedom of expression and privacy, by using the fibre optic cables that physically make up the internet and intercepting data on them. It is because of Nobel Peace Prize nominee Edward Snowden that the report was able to name and shame the specific government agencies and their operations.
It goes on to name Optic Nerve, the programme the GCHQ used to collect millions of webcam images of Yahoo users without their consent. It would seem the power of GCHQ is almost boundless.
The report also shines light on other projects across the world that are fighting to keep citizens from their right to freedom of speech, such as Iran's Halal Internet, which is now backed by China, and would effectively be a nationwide ethernet that is not connected to the internet or the outside world in any way, and would be similar to North Korea's internet use.
The report can be read in full here: Enemies of the Internet 2014: Entities at the Heart of Censorship and Surveillance
Tags: Censorship Edward Snowden Enemies of the Internet England Freedom of Speech GCHQ Internet Nobel Peace Prize