Too much happens in the gaming world. All tech is fast-paced of course, but video games news can be so frequent that we thought we'd start giving you a nice, neat summary of the week's action, here at TechReviewer. So without further ado…
Multiformat

Assassin's Creed may go back to Italy with an ancient-Rome setting; that is, the current-generation version rumoured for end of this year. Assassin's Creed: Unity designed only for next-gen consoles Xbox One and PS4, takes place during the French Revolution though it's been rumoured since last year that a separate game for PS3 and Xbox 360 will be released as well, going by the name Assassin's Creed: Comet.
Ubisoft Toronto boss Jade Raymond, in an interview discussing the commercial success of the Assassin's Creed franchise, suggested the Rome setting: "We work with historians to recreate these societies – ancient Rome, the French Revolution. And because each game is crafted in a new era, players don't get tired of it."
The franchise has already been to Renaissance-era Rome in Assassin's Creed 2 and Brotherhood but an ancient Rome setting would be entirely different. In fact in 2011, Ubisoft asked players through a survey where they would like the series to go in the future. One of the options was 'the rise of Cesar's Empire in Ancient Rome.' Though Comet doesn't officially exist, surely they wouldn't release both games with such significant timelines side-by-side…
In the same interview, Raymond also expressed her concern over the image of video games: "I don't like the assumption that all people who play games want big chain saws and women in bikinis. It's like, really? Not all gamers are teenage boys, and even teenage boys want more than that."
She said games have been doing a good job of creating interesting lead characters in recent years but asserts they still have a long way to go: "There still isn't a game where you get to play an old lady. That's my dream."
"Look at movies. I really love traditional action movies – I almost don't care how bad it is if there are big things exploding – but even those films have become more interesting in terms of complex leads. Look at Iron Man."
Rock Band and Dance Central will at some point appear on next-gen consoles. Speaking at a PAX East Keynote address, Harmonix CEO Alex Rigopulos said he had no current projects to announce for a fourth main title in either franchise but assured they will come eventually. "We have grand plans to bring back both of them with guns blazing at some point in the coming console cycle."
An announcement for a coming announcement has been made from Codemasters about a new Grid. Developers of the popular DiRT and Grid racing games, Codemasters released a brief teaser trailer this week with the date 22.4.14 and a #racingiscoming hashtag. Similar to Tomb Raider and The Last of Us, it could be a port of last year's Grid 2 to the Xbox One and PS4, or something else entirely.
Snoop 'Tha Snoop Dogg Shizzolator' Dogg will be appearing in an upcoming Call of Duty Ghosts DLC pack. The hip hop artist has performed voice overs for its multiplayer mode, announcing actions throughout matches. "Squad member active: A brother from another mother", he's shown saying in the trailer, mustering all the enthusiasm of a soggy bread laying limply on some carpet. The voice pack will cost $2.99 and as always, will be releasing on Xbox Live first.
For the first time in years, content for Beyond Good & Evil 2 has surfaced, from none other than creator himself Michel Ancel. During a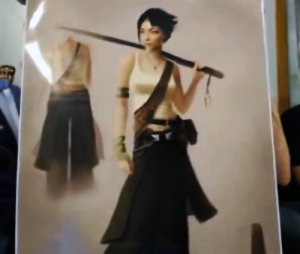 Twitch livestream for Rayman Legends, the Ubisoft developers were taking questions from viewers. "Working on Rayman Legends was a nice holiday," Ancel responded at the mention of Beyond Good & Evil. "We are going to make serious games now and Beyond Good & Evil 2 would be a good candidate for making a real serious game".
After disappearing into another room, Ancel comes back with the game's concept art, as someone clearly says the protagonist's name, Jade. Beyond Good & Evil was announced as far back as 2008 and there's been a news blackout since. Maybe E3, the major trade show in June, will show more of the game.
Sony

Global sales of the Playstation 4 continues to outpace the other consoles on the market, beating the Xbox One by around a third with another sales milestone. There's nothing particularly significant about the 7 million mark but Sony are announcing it anyway, though Microsoft haven't updated their console figures since January. That certainly tells some kind of story but back then they were on 3.9 million units. They would have certainly passed 4 million by now but it's unclear how the impact of its major release Titanfall would have affected sales. For the record, the Wii U currently sits at around 6 million worldwide.
Playstation Now, Sony's service that streams playable PS3 games, has apparently improved the loading times of its currently supported titles. A list of the loading time speeds of each game has emerged online, showing 10-20 seconds less, initially taking as long as 50 seconds to load via their servers. Similarly to how OnLive works, games are streamed over the internet though latency is a huge problem the streaming technology faces, whereby the controls have slight delays. It's recommended users have at least a 5Mbps connection.
Sticking with Playstation Now, Sony are to release a new range of 4K TVs priced between $2000 and $25,000. The Bravia televisions are Playstation Now enabled and consist of nine models that go as large as 85 inches. Sony are set to launch the service in North America this summer, with Europe set for the first quarter of 2015.
Finally, Playstation 4's may be dominating console sales but Sony's bank account isn't in the black just yet. The company's quarterly earnings reports show some notable losses resulting in Sony selling off assets, including their own headquarters. Its latest liquidation is their 8.25 percent stake in Square Enix, the publisher behind Final Fantasy, Dragon Quest and Tomb Raider. Estimates believe they made $1.1 billion loss last year and this $46.9 million sale still won't cover everything, leaving other headquarters and the VAIO PC business to make up the difference. Still, the developer has had a long and loyal history with Playstation so it shouldn't effect Square Enix titles.
Microsoft

The veteran Halo music composer Martin O'Donnell has announced he's been terminated from developer Bungie by the studio's board of directors. He said on Twitter this week that it was "without cause", though Bungie claimed in a short statement that O'Donnell and Bungie parted ways on good terms. "[He] left an indelible mark on our fans. Today, as friends, we say goodbye. We know that wherever his journey takes him, he will always have a bright and hopeful future." The composer worked on every Halo game up till Halo: Reach, after Bungie split from Microsoft and are now developing next-gen shooter, Destiny. The beta for which is due to kick of this summer.
In a strange turn of events, the Xbox One version of The Amazing Spider-Man 2 has been pulled and even removed from a group shot of all the other versions, including Xbox 360, PS3, PS4, Wii U and 3DS. No reason has been given for the cancellation though Activision issued a statement saying: "We are working with Microsoft in an effort to release The Amazing Spider-Man 2 video game on Xbox One." The lack of an explanation gives no clue as to whether it's a technical issue or something business-related.
Nintendo

A Mario Kart 8 Wii U bundle is reportedly planned with the package said to include a black 32Gb console, Mario Kart 8 and a seven day Wii U Karaoke trial. Although Nintendo Europe failed to comment on potential plans, it's certainly possible as the last console game in the series, Mario Kart Wii sold nearly 32 million copies worldwide. The bundle is supposedly to retail in line for €299, as with other premium bundles. Mario Kart 8 is due May 30th.
Nintendo is home to many veteran designers, with the Metroid series director this week saying he would like to challenge himself with games taking new directions. Sakammoto-san whose latest title is 3DS social sim Tomodachi Life, has worked on a plethora of Nintendo games over the years including the whole Metroid franchise. Expanding upon a recent Tomodachi presentation about creating traditional games he's known for, he commented: "I would like to satisfy fans of those series, but also working with other talented individuals I would like to create entertainment that's completely different and that brings new emotions. I would like to challenge myself in those unique directions." Tomodachi Life is due for release on June 6th, on Nintendo 3DS.
PC

It turns out that more than a third of installed Steam games remain unplayed according to a recent study. Researched and published on Ars Technia, it shows that out of the 780 million games that have been installed since Valve's digital games platform launched in 2004, 37 percent of those have not been opened and 17 percent have been played for less than an hour. However, it's noted in the study that many are part of bundle deals and a free-to-play and the research only studied data from March 2009. Some titles were revealed to be the most unplayed with Valve's official Half-Life 2 mod, Lost Coast shown to be installed on 12.8 million accounts but only played by some 2.1 million players. The most played game-per-head was said to be Sports Interactive Football Manager 2014 which is played for 100 hours per average user. That's twice as long as Skyrim's play time which was at 53 hours per user.
Speaking of Steam, the Steam controller could be coming this October or November. Valve's new gamepad, notable for emitting the industry-standard dual sticks and replacing them with dual trackpads, has been made playable with 500 SteamOS titles, from 382. A 'trusted hardware source' speaking to PC Gamer Magazine, added that with the controller's completion, it'll lead to the availability of 'most' Steam Machines. The machines in question are 14 third-party Steam Machines from companies ranging from Alienware to Origin. Each console runs Linux-based SteamOS, which Valve promises a "significant performance increase" over other operating systems.
Meanwhile MMO fans needn't worry that the new expansion, Warlords of Draenor, won't require you to get a new computer. One of the main features of the expansion is that it'll include dramatic character model updates for the original eight races as well as various texture improvements. Concerns over whether the upgrades will make the game be too taxing for low-end rigs, Blizzard has finally responded: "I'd say that you shouldn't be worried about any big drop in performance; things will most likely remain very close to what you are experiencing right now. So if you're satisfied with what you have right now, then there shouldn't be any need to change anything." World of Warcraft's fifth expansion will launch at the end of the year.
Releases This Week
There's not too much out this week apart from the third Trials title on consoles which looks as unforgiving as ever and slightly shinier too. A new Fifa World  Cup game is set to get us in the mood for the event beginning June. A very Japanese-looking side-scroller with Killer 7 and Shadows of the Damned with developer Suda 51 is due out. Equally another game has appeared out of the blue, with a new Hitman game on Apple devices looking bizarrely intriguing.
Trials Fusion (PS4, Xbox 360, Xbox One and 24/4 on PC)
2014 FIFA World Cup Brazil (PS3, Xbox 360)
Short Peace: Ranko Tsukigime's Longest Day (PS3)
Hitman GO (iPhone, iPad, iPod Touch)
Tags: 3DS assassin's creed Beyond Good & Evil 2 call of duty ghosts Dance Central Grid Hitman GO Mario Kart 8 Microsoft Nintendo PC playstation 4 Playstation Now ps4 Rock Band Snoop Dogg Sony Steam Steam Controller The Amazing Spider-Man 2 Trials Fusion Warlords of Draenor Wii U World of Warcraft xbox one