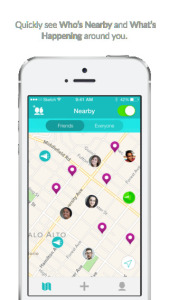 With a name like Telenav it is not hard to guess what this firm does for a living. Its association with mapping and personal navigation is obvious, but diversifying your services is the trick most tech startups are engaging in to reach a wider audience. Banking on the release of iOS 8's open source feature, Telenav released HopOver, an iOS only app that aims to be more social.
HopOver is a social app that let's you know what your friends are up to if they are nearby. Just like Google's Hangouts, HopOver allows you to invite your friends for a 'hop." Except, this isn't the first time an app of this sort is released. Remember Foursquare's Swarm, that's what this is based on.
Swarm from Foursquare is an app that spontaneously allows you to view who is nearby, coordinate meetups and connect with friends. On the other hand, Telenav is looking at the students in universities as probable target markets, unlike Swarm which plans to use the profiles it generates as Foursquare placeholders. A clone of Foursquare's Swarm, HopOver is also leveraging Foursquare's data, while it lets you tag friends, add stickers and follow other a la Twitter. With all this sharing going on, privacy is taken care of. The "home protection" option included in the app hides your address ergo, privacy at the touch of a button.
Snapchat also influences HopOver with its 'ephemerality' feature extended to locations and events. This means that locations and "hops" shared on HopOver are gone for good after being on display for an hour. Telenav calls HopOver the Snapchat for places, focusing on creating meetups in the present rather than the future.
With apps being developed all the time, the one challenge HopOver or Swarm faces is reaching their audience. Swarm may have the upper hand over HopOver, after all Foursquare does have a sizeable user base to push the app, whereas Hopover is starting from scratch. Swarm's added bonus is its availability on Android, iOS and Windows, while HopOver is only a standalone iOS app. It is a challenge, but then challenges are meant to be overcome, aren't they?
Hop over to iTunes to try the app and let us know what you think of this Swarm clone with Snapchat's features.
Tags: Android Foursquare HopOver iOS snapchat Swarm Telenav windows phone