Steve Jobs (24/02/1955 – 05/10/2011) was an American entrepreneur, co-founder of Apple one of the most important computer companies in the world. He gained notoriety for implementing an industrial policy that values the innovation and design of its products.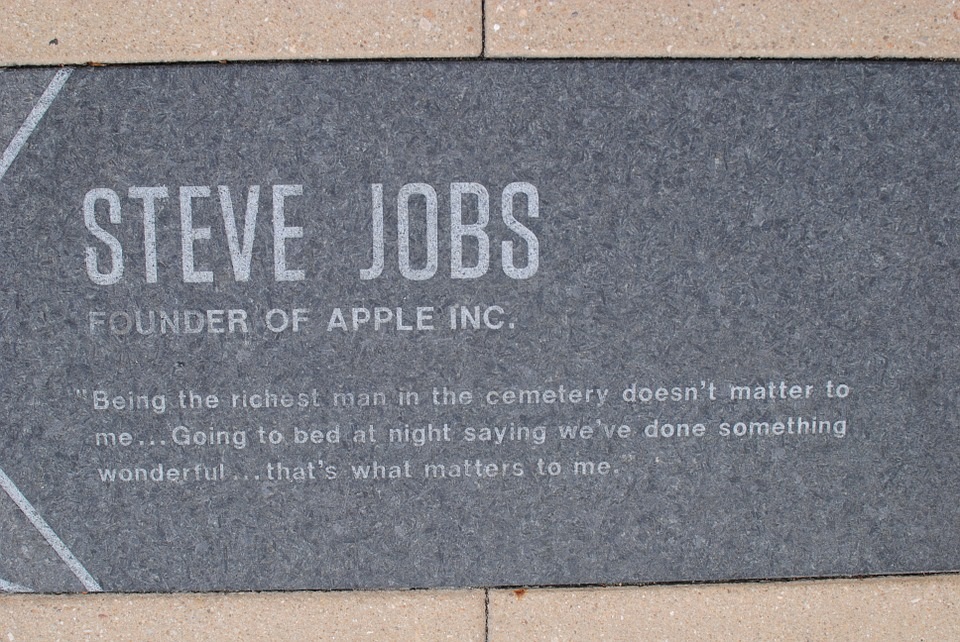 The prodigious man died on October 5, 2011 following a rare pancreatic cancer that affects the exocrine functions of the organ, which he had been fighting since 2004, and since then Tim Cook led Apple.
Thanks to him, Apple is able to come through in a world of technology breakthrough with innovative products and, even after his death, his ideas and plans for the company continued to be taken into account. Current CEO, Tim Cook, has a different way of dealing with Apple and this difference has had a significant influence on how Apple has evolved ever since. Even so, it is likely to have an even greater impact in the long run.
Although the accounts are sprinkled with preciosity, the founder of Apple took detailing to the extreme, to the point of losing weeks of work before defining what should be the progress bar of an operating system. We should not expect this from Cook. The executive works much faster on the operational part of the company, facilitating other sectors markets for new launches.
With this new administration, it was possible for Apple to become the most valuable company in the world, with an increase of actions that has more than doubled in this period; in addition, annual profit grew more than 84%.
Just in the fourth quarter of last year, the company sold 74 million iPhones, which was more than the company sold throughout its 2011 financial year when Cook took command. Cook set up a philanthropy program, advocates for gay rights and fights against discriminatory legislation.
Tim Cook seems to have the approval of his employees and he is getting fonder into Apple users as the new face of the company. Also, on opposite to Jobs, Cook seems to be a more friendly face for the tech giant. While Steve was never into sports, Tim, for example was seen already having a good time in a Boston Red Sox game, one of the usual favorites on the odds to win the World Series.
The company recorded a drop-in sales and profit in 2016, when compared to the previous year. Apple's flagship product, the iPhone, also fell in sales and its success eventually overshadowed other products, as there was a decline in interest in the iPod, iPad and even the Mac Plus and Apple Watch were not a success among consumers, just like Apple TV. Apple Car project cannot get off the paper, since the company has not demonstrated advances in the area of virtual reality yet.
In a way, it is important to reflect that Cook did not innovate in product issues at first, and only worked on projects of his predecessor. Cook would depend on other people within the company to be able to bring new products to the market. This was worrying, as Apple was missing a crucial part of its winning formula: the ability to innovate.
Quoting a letter from the company to the public in the day Steve Jobs died:
"Apple has lost a visionary and creative genius, and the world has lost an amazing human being. Those of us who have been fortunate enough to know and work with Steve have lost a dear friend and an inspiring mentor. Steve leaves behind a company that only he could have built, and his spirit will forever be the foundation of Apple."
Fortunately, Tim reacted to these sales decline in the best way and currently Apple was able to reach a trillion $ mark in market value in 2018 – the sum of all its shares – on the New York Stock Exchange.
Finally, Tim Cook is preparing a new era regarding Cupertino's technology, as he steps onto the Steve Jobs Theater stage, thanks to the up-to-date subscription service for videos, series and movies, a new Netflix, with new content, as its CEO has already made clear.
Apple's streaming service will bring together several other studios and content production partners. For all intents and purposes, it will be a new chapter in the history of Apple TV, accelerating the transmutation of conventional television.
Written by: João Santos
Tags: apple Steve Jobs