Set your music free. Portable speakers are a great way to liven the mood in another room or outside the house. The iClever IC-BTS01 Bluetooth Speaker delivers clean sounding audio at a very affordable price.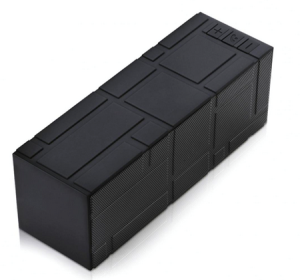 What's most striking about iClever's Bluetooth Speaker is the interesting design. The black casing is layered with asymmetrical geometry; which is inspired by the artistic movement of neoplasticism and Piet Mondrian, a Dutch painter from the late 19th Century. Not many can say their speakers pay homage to a classic art style. What's nice about the iClever Bluetooth Speaker is its sturdiness and overall solid finish. With a price point that is easy on the wallet, there is a concern that the slightest knock could render the speaker useless and end the party prematurely, thankfully, this is not an issue that I experienced with iClever's speaker. It also features a nice rubberised texture to help prevent slipping on surfaces.
As you would expect, a vitally important aspect of a speaker is it's ability to produce sound. The iClever Bluetooth Speaker is capable of delivering clear audio and has a decent range. I don't claim to be a hardcore audiophile, but even I can tell that these speakers have some trouble producing strong bass lines. You certainly won't be starting too many parties with this Bluetooth speaker, but it is a definite improvement over built-in laptop or smartphone speakers. Distortion at the highest volume setting is to be expected but shouldn't be a deal breaker. Considering its size, the iClever Bluetooth Speaker is actually very competent.
The iClever Bluetooth Speaker also doubles as a loud speaker for hands-free phone calls. Voices over the speaker are clear and audible, whilst the in-built microphone is suitably strong from a short distance away. However, there are complaints over the feedback system, whereby, callers played over the speakers can be distracted by the sound of their own voice.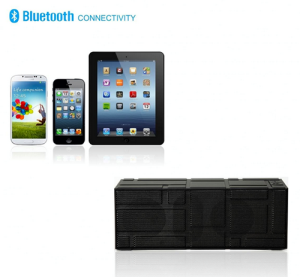 Bluetooth is super simple to connect to and the Bluetooth 4.0 specification, which is designed to be the most efficient Bluetooth connection, has a good range of upto 33 feet (theoretically). What could be considered a drawback to the iClever Bluetooth Speaker is the fact that when paired with a mobile phone or other device, a notification is played over the speakers. After a while, this notification is rather graining, since it is a pre-recorded voice clip. It should also be noted that not all phones/devices are Bluetooth 4.0 ready – iPhone 4S and newer are compatible.
The iClever Bluetooth Speaker has an impressive battery life of around 8 hours and takes approximately 3 hours charging from a mains supply. An adapter from USB to mains supply isn't included in the box, meaning that I had to use a spare mobile phone adapter. Notwithstanding, iClever does supply the necessary USB micro to USB cable, as well as an auxiliary cable, facilitating particular devices that don't support Bluetooth 4.0 specification.
All things considered, I'd recommend the iClever Bluetooth Speaker. It is fantastic value for money, and whilst it won't be the loudest speaker you've ever heard, it delivers good sound quality in a cool design. Battery life is a big bonus as is it's functionality with auxiliary cables where Bluetooth 4.0 is not feasible. Portable speakers are most useful when taken on trips or on holiday, and the iClever Bluetooth Speaker is no exception.
Tags: audio bluetooth bluetooth speakers iClever speakers