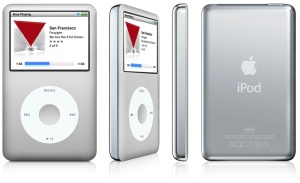 September is too early to celebrate Christmas, but for most Apple fans, Tim Cook brought it in quite early. Recognising the need to adapt to the needs of their loyal customers Apple's announcement of iOS 8, a bigger phone and the iWatch begin an era of opening Apple to a new customer base. As the iPhone 6 readies itself for future greatness, the iPod Classic dies an obscure death. They say the old must give way to the new, and Apple's iWatch, it's first smart wear device replaces the iPod Classic, setting the stage for the next big thing from Apple.
Few will remember the heavy price tag that came with the iPod Classic released just a few weeks after the aftermath of 9/11. Steve Jobs, the face of a struggling computer company, then known for their Macs alone, set out on a mission. In no more than three clicks, users must be able to do anything they want with their music. This simple request birthed the iPod Classic, the predecessor in a line of muti-billion dollar business products that inspired a business model envied all around the world.
The iPod, back in 2001 was not really different to alternatives that played compressed music. Few would have bought it if it wasn't for Apple's mysterious marketing strategy. The design which was smaller and lighter than other devices was inspired by Dieter Rams, making it easy on the hands as it was to use. Listen to Steve Jobs explain why and how the Apple iPod came to life.
The first ad for the iPod Classic had just one little voice-over in the end that added to Apple's mystique. The promise of 1,000 songs on that tiny device priced at US $400 in 2001, was the reason why the iPod changed Apple's business model forever. Contemporaries and industry pundits in 2001, blasted the iPod with brutal reviews. Many people compared it to a toy that rich people can play with, and let's not forget the fact that it synced only with Macs making it even difficult for non-Apple fans. Despite the reviews, Apple did report brisk business in its first two weeks – 125,000 units sold. Bam! Apple released an iPod for Windows users, albeit in less than a year.
With all the innovation Jobs brought to the iPod, it wasn't until 2003 this game-changer actually changed the game. iTunes, Apple's very own legal music store paired with the iPod allowed anyone to legally download music at 99c a song. Jobs' iTunes Store was a brave move, especially since America was grappling with Napster and illegal downloads. Apple's role in cutting down the piracy levels was much appreciated, but legalities still limited their expected reach into an unlimited market. AC/DC, the Beatles and Led Zeppelin refused to license their music, despite Apple's famous "any song" promise.
Beating the odds, Apple's iTunes Store became it's biggest success. With a million songs sold in under a week, the number rose at 100 million songs in under five months when Apple opened the store to international customers. It is 2004, and the New York Times recognises the multi-billion dollar business model surrounding the iPod. One major reason why the iTunes Store did so well is because it did and still does live up to its "any song" promise. Music lovers no longer needed to purchase the whole album unless they needed to, making individual tracks an easy purchase. Artists eventually gave up their licenses to Apple and record stores shut their doors after the iTunes Store laid its open.
The iPod held and played all your music wherever you went. Lighter, smaller versions came up after the Classic. Apple added a colour screen, added storage space  carried your email and included video compatibility. A tinier version, the Mini and a really cheap version stripped down to its basics, the iPod Shuffle was released shortly. Oddly, what or rather who killed the iPod, is none other than Apple itself. Jobs released the iPhone in 2007, a phone that since has seen six releases. The iPhone was an admitted step up from the iPod, a device that not only held your music, photos and videos, but also let you make phone calls, send texts, MMS, and carry your emails with you where ever you went. Jobs even called it the best iPod Apple had ever made. An iPod icon lingered on the iPhone for a few years, but then it just faded into oblivion. The iPod Classic though, still retained its classic look, only to be labelled a failing business in 2014, by current CEO Tim Cook. Production was shut down and Apple focused on the next big thing after the iPhone, the iWatch – a smart wearable device – nearly two years after Samsung did.
The iPod Classic may no longer be available, but owners hold on to it. With time, the value of a product depreciates. Apple, like wine gets better with time and a single iPod Classic may be a billion-dollar purchase again. Auction houses will be thronged by dedicated fans vying to purchase a vintage iPod Classic in the years to come. Its wise to hold on to those vintage pieces that serve as a reminder of the iPod and iPhone's humble beginnings.
It would be a shame though, to let a game-changer go without giving it a proper eulogy. So long iPod Classic, so long.
Tags: apple iOS iPod Classic iTunes Store Steve Jobs Tim Cook