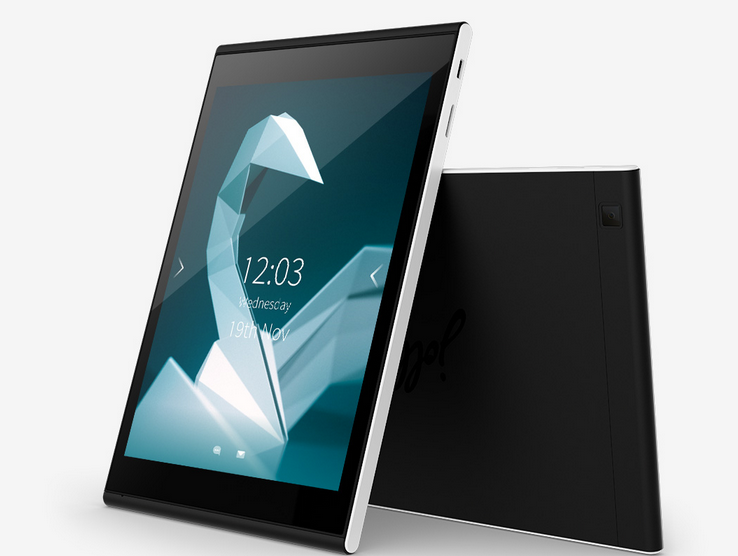 "We have reached our goal in a little over 2 hours – the #JollaTablet (pronounced 'yola') is happening! Our heartfelt thanks to each and every one of you who have contributed. The first two batches of Jolla Tablets are sold out, and we have introduced the next batch of 2000. Please stay tuned for future updates and share the love for the world's first crowdsourced Jolla Tablet with your friends and family! #PeoplePowered success!"
If the first update for a project on Indiegogo goes like this, I guess we've got to brace ourselves for something amazing. #PeoplePowered success! Three words that aptly capture the fantastic success the Jolla tablet is enjoying today. For ex-Nokia employees who started an Indiegogo campaign on November 19 to financially support a new Linux-based tablet, raising awareness and a million dollars in under a week is nothing short of a miracle.
Powered by a Linux-based OS Sailfish, the tablet is an alternative in a market already saturated by Apple, Google, Samsung and now Nokia. Makers of the Jolla tablet launched the Indiegogo campaign to initially collect $380,000 (€300,000), instead amassing more than $1 million (€805,000) in under two days. Thousands obviously love this product, hence the pledges to buy the $199 tablet due in May 2015.
The Jolla Tablet is powered by a 64-bit Quad-Core Intel 1.8 GHz processor, 2 GB of RAM, 32GB of space, SD slot, a 7.85-inch IPS display with a resolution of 2048 x 1536 and 330 DPI, a 5MP rear camera and 2MP front camera, and a 4300 mAh battery. Sailfish OS 2.0, the Linux-based OS that runs on the device is a healthy mix of proprietary solutions and open source software developed by Jolla.The Linux base common to Google's Android allows apps based on the latter to run on the former via a compatibility layer. Regular updates stabilise Sailfish OS and the Qt™ platform based OS is open for further development, requesting users for feedback and ideas to be included when the devices are shipped to places as far as Canada and Australia next year .
While Sailfish OS isn't relatively new (it's actually based on MeeGo, and has been around for a long time), there are telling signs that Android and iOS need to up the ante in terms of what they provide long-term users. Sailfish OS has been running on devices in Europe, Asia and Russia for years, offering independence and customisations far greater than Android besides an intuitive UI, leagues apart from iOS and Android. 'Ambiences', a completely new feature personalises the OS according to your mood, while 'Events' shows all your texts, events, schedules and anything relevant in one simple view. Multi-tasking is an important feature on any tablet, no matter what OS it runs. Apple and Google are still perfecting it, but Jolla promises a killer feature by fully supporting multitasking in a single-window view.
The price is probably why people are backing the device. It is hard to ignore the fact that features promised on the Jolla tablet at $199 are available on a $399 iPad mini or the equally technical Nexus 9. Sure, there are tablets that share the same tech specs, but even at half the price it is hard to believe that these products exist in the market. If people powered focus is what gives it power; why not invest in a product that listens to what you have to say about it and include it in the final design, apart from running an open sourced OS (more people power there.)
After the Ubuntu Edge failed, as a Linux user, I wasn't happy. Ubuntu for phones was supposed  to share the stage with Android and allow users to choose what they want, but it failed miserably. My faith in an alternative is back; the Jolla tablet made me a Linux convert again. Their promise of making a tablet that allows me to make it truly mine, is perhaps why I want to back this project. The Jolla sailors aka developers have a forum that discusses and votes on any proposed features to be included before the device is shipped out next year. Just so you know, they actually listen to you. They've included four of the eight features proposed in their smart phone and if that is any indication, I can't wait to see what they plan to include on the tablet.
What piques my interest in this project is the team of ex-Nokia employees backing it. Ever since Nokia was purchased by Microsoft they have released Windows mobiles, Android versions and now an Atom powered Android tablet is due sometime in the future, although they rarely generate the buzz Nokia did earlier. Should the once mighty Nokia have gone with Sailfish OS instead of a Microsoft buy out? I don't know, maybe they should've, because if they did, they could be reaping the benefits now. Jolla aims to bring Nokia back into prominence, and that's commendable. Who better than a Finnish friend to help out one in dire need. Whatever the case may be, I'm just happy that Linux's resurgence is on the rise and hopefully this will bring back Nokia too.
Follow them on Google+ to learn more about the Jolla tablet.
Tags: Android compatibility Finnish Indiegogo iOS iPS display jolla Linux MeeGo Microsoft Nokia Qt Sailfish OS