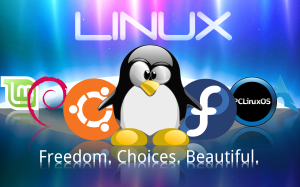 Can you imagine a world with no technology in it? I sure can't. The invention of the computer is single handedly the best invention that has happened in a long time. Long after the first computer, people have constantly been developing software that only makes the experience better. FREE that's one of the words I love and for that Linus Torvalds is who I must be grateful to. The invention of the Linux kernel and its further development is what has led to the growth and usability of this OS to a huge range of users. Linux is still on the road to being fully accepted. Compared to its American counterparts like Windows and the Mac OS, Linux may not be the most obvious choice for most users, but let's see what the future holds.
Reports suggest that Linux is now the OS to compete against and as a proud Ubuntu user I count myself as one of the few people who has treaded the path less travelled. Linux is both easy and difficult to use if you choose to do so. It is also the most supported OS on the web. Solutions to anything that may not work out are given by both official websites and techies who are absolutely passionate about supporting people with problems like those. I have fixed problems that range from simple AV issues to complex codes simply by googling the answers to them. Can you find it any easier? Support is available 24/7, reviews are offered by various people who offer a well-rounded opinion on what works and what doesn't and the credibility of using these options has increased.
Ivan, Quidsup
Ivan, an Ubuntu user from the UK has been my guru for the past 4 years ever since I started into the world of Linux. Governments are now switching to Linux because of its stability and the fact that it is FREE! I foresee a future where Linux slowly but surely rises to the top and that people appreciate what Linus tried to do with his kernel code.
Android has now started to pave the way for what I expect is the beginning of Linux domination! And like the warlords of yonder I want to see that happen real soon!
Tags: Ivan Linux quidsup Ubuntu