Grand A1 Plus is a new product launched by Lumsing this year, from appearance to battery cells using, the Grand A1 Series is different from its previous power bank products. I ever bought a Lumsing harmonica series 10400mAh battery charger on Amazon before, comparing to which, the new 13400mAh power bank makes a big improvements.
As most people will know, the maximum capacity of a power bank is not the actual amount as it shown. I've seen good ratio's from Lumsing 10400mAh and Anker and other brand in the past, to be honest the Grand A1 Plus is the most impressive one so far. This may due it's 13400mAh capacity being a bit more than 10000mAh power banks.
This 13400mAh is comprised of four original LG 3350mAh cells internally and it's enough to charge your general smartphone four to five times roughly, like my family, it will be a mix of phones, tablets and other gadgets.
The battery is enclosed in a very smooth and solid aluminium body with plastic end-caps, and the dimensions are very compact at 3.8"x3.2"x0.8" as a high capacity charger, the whole design is very simple and looks elegant in my opinion. I got the champagne gold colour one and the colour is perfectly match my Macbook as the picture.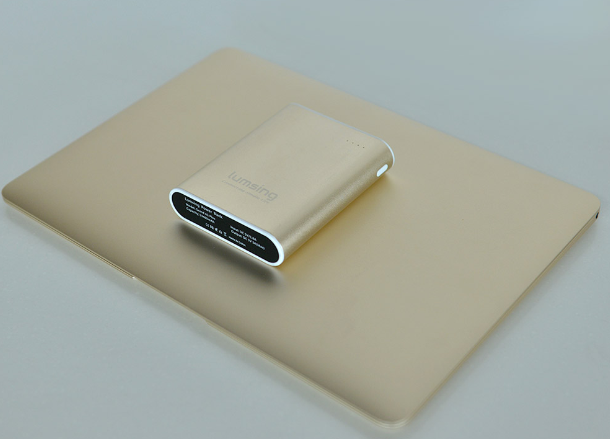 On top of everything else the 4 LED indicators are smaller than the average ones so that the light disturbance during charging is minimised, the designer is very thoughtful in this case.
Overall, this power bank is aesthetically pleasing and feels great in hand, definitely feels solidity built. It's currently my most efficient charger and will certainly be my number one choice for any trips I plan to take in the near future.
Lumsing Grand A1 Plus – Features
Battery capacity – 13400mAh
Powered by Grade –A LG Lithium ion battery
Intelligent Quick Charging Technology
Recharge time – 8 hours from a 2A AC adapter
Weight and size – 3.8 x 3.1 x 0.8 inches – 9.24 oz
Dual USB outputs – Up to 2.4 amps per port or 3 amps overall
Comes with a micro USB charging cable and a user manual
Lumsing Grand A1 Plus – Where to buy?
http://www.amazon.co.uk/dp/B017H1WUAC/
Tags: battery gadgets Lumsing Grand A1 Plus power bank Review