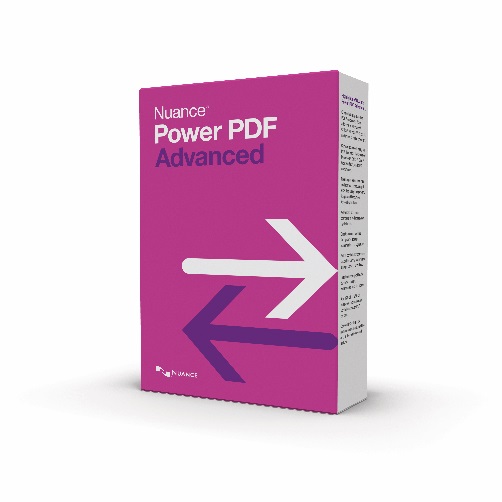 It is standard practise that office suite programs let you export your content into a PDF file. Of course, Windows Microsoft Office has always allowed users to do this, even free alternatives to Microsoft Office allows users to export their work into a PDF format. This basic function was introduced so that documents could be shared in the workplace without others being able to edit it, however this becomes an issue when you receive a PDF that needs to be changed. To resolve this issue, Nuance developed the Power PDF. An affordable PDF editor that allowed users to edit, create, and convert PDF files that would otherwise be 'locked'.
Power PDF was well received when it was first released more than 10 years ago, but most recently, it has been upgraded to become Power PDF 2.0. This review will look at Nuance's latest PDF editor software, judge how much it has improved from its previous versions and decide whether or not it can improve your workflow.
Learn more about Power PDF 2.0
Windows 10 Compatibility
The first improvement to note is Power PDF's windows 10 compatibility that supports all Windows touch-enabled devices. This update allows the user to make annotations and interact with their documents using a stylus pen or the end of their finger.  This function is particularly helpful when signing documents with a digital signature.
Ease of use
Similar to its previous versions Power PDF 2.0 is easy to use. Its Microsoft Office style navigation ribbon is familiar and self-explanatory. The programs functions are easy to access, and well set out which avoids the need for training and will ensure an easy transition to the software throughout an office environment. The updated navigation ribbon looks even more like the Microsoft Office ribbon which we agree was an improvement.

Another familiar Microsoft Office function is Nuance's Quick Access Tool that allows users to find Power PDF's tools, making the software completely fool proof. If you can't find a tool/function along the navigation ribbon, just type in what you're looking for, or something similar, and the quick access tool will find it for you.

Integration with Microsoft office
Once you install Power PDF it automatically integrates with Microsoft Office so that you can access the PDF software within Microsoft Office programs, this is a great feature that certainly improves workflow and productivity.

Security
Power PDF's main security feature is password protected PDF files that keep sensitive documents secure. Having used the software for a few days, we can confirm that no one from our team managed to view or edit a password protected document without getting permission from the host.
Not only were Power PDF's security features really secure, they were also really easy to implement. It was just a case of finding the security tab along the navigation ribbon, and adding Password Permission to your PDF file.

Another helpful security feature was Power PDF's signature functions. As mentioned before, you can add signatures to Power PDF using a stylus pen and place signature within a document which is recognised as legally binding so that your documents will be secure.
Cloud Services
Nuance have improved Power PDF's cloud computing services, which allows users to save documents online with popular document storage services. These services include Dropbox, Evernote, Google Drive, and Microsoft OneDrive so that users can access their documents on the go.
The improved cloud computing service allows the user to collaborate with colleagues and edit the same document at the same time. We used this function amongst our team and it worked seamlessly. There was no disruption and the collaboration tools made it easy to understand who was editing what and when. Much like Microsoft Office, we were able to track each other's changes and clearly follow the progression of the document.
Fillable PDF Forms
Our favourite feature from Nuance's PDF editor was the PDF form filling function. It was the most satisfying tool that Power PDF had to offer. It quickly recognised 95% of the fillable areas of a sample NHS registration form in a matter of seconds and we successfully filled the whole form that we sent off in a secure, password protected email (thank you Nuance).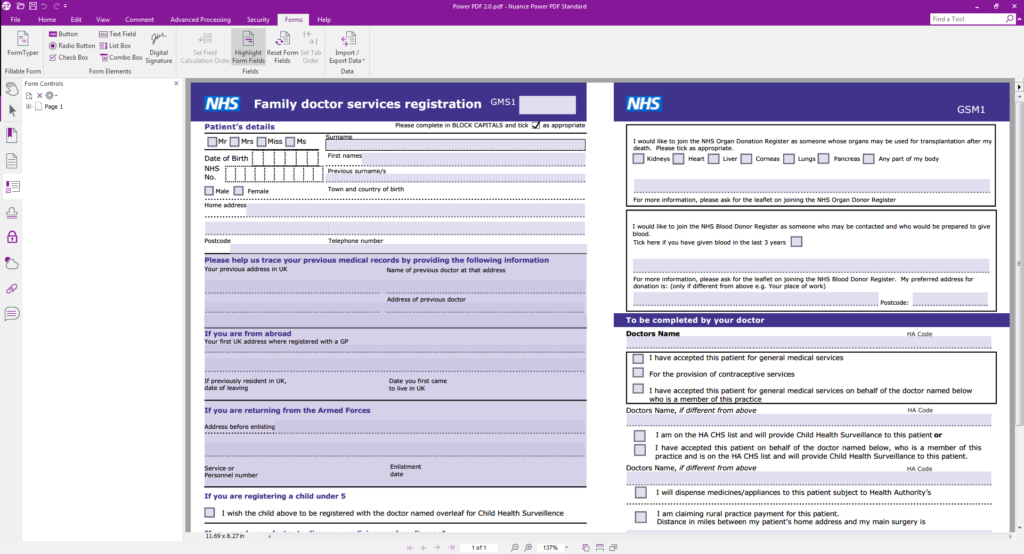 Email integration
Power PDF's email integration was quick and easy to send secure PDF files via fax or email.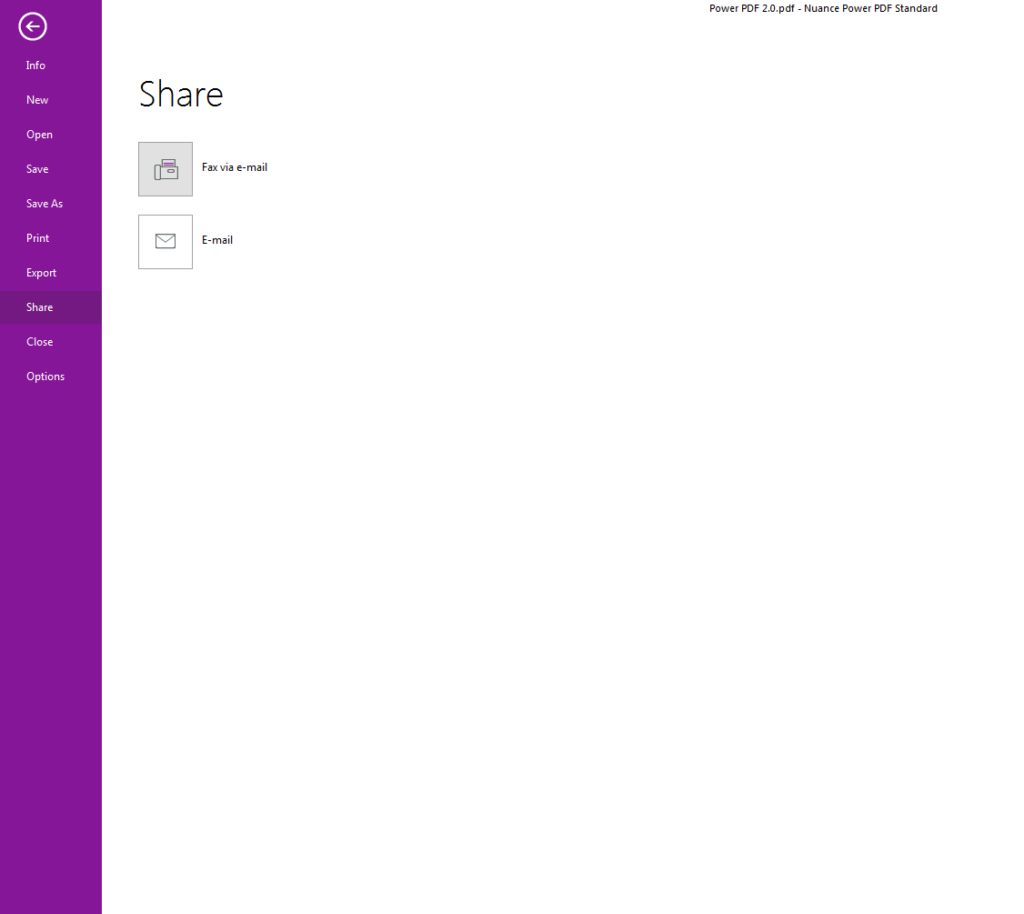 Merge PDF Files
Power PDF lets users merge batch PDF Files. This means that users can work in groups, doing the work in different sections and then merge the PDF files into one document.

This was a great feature and it was simple to implement. Once we had found the "Document Assembly" button under the Home tab, the rest was self-explanatory. Once we had merged our work together it could be edited and printed as one document.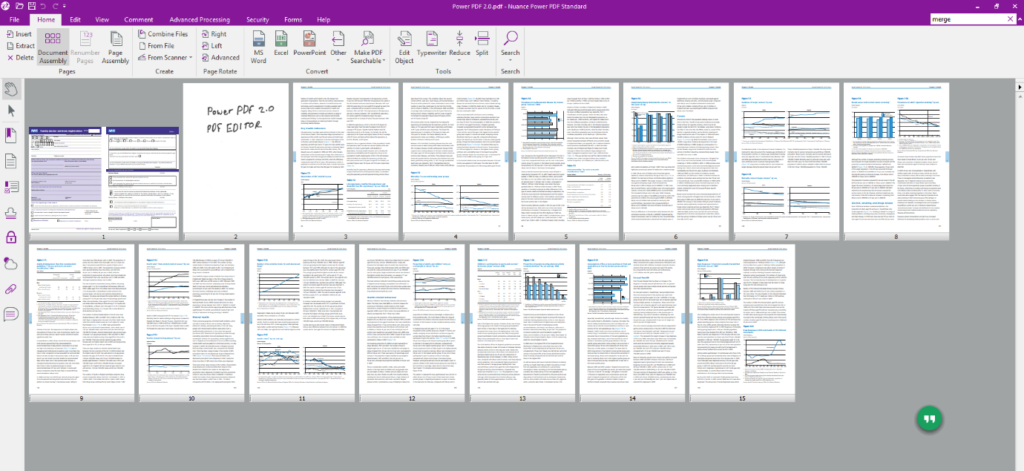 Search PDF Files
Nuance allows users to search words and phrases in PDF files and image files using high tech optical character recognition software. We tested this function as we scanned a document into our computer. We were really impressed that Power PDF managed to recognise every word and number correctly, in spite of our terrible handwriting (see below), and made quick work of scanned typed documents. It was like having the original Microsoft Word copy on the computer.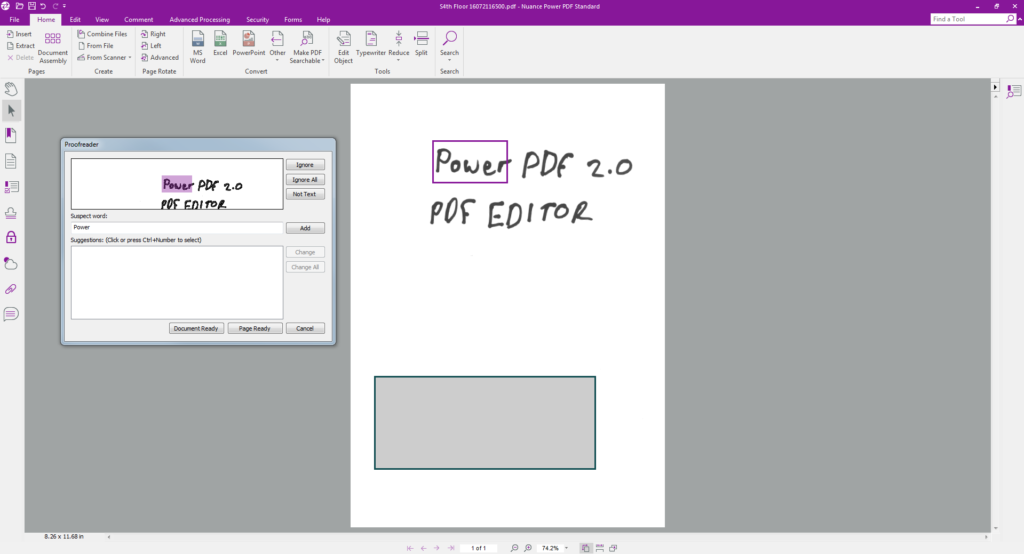 Looks like Search
One other brilliant search feature was Power PDF's 'Looks like Search' that recognised the format of numbers in a document to identify what sort of number it was. For example, rather than having to search through multiple documents you could tell Power PDF to find all the phone numbers, or national insurance numbers within the document. Then, Power PDF's 'Looks Like Search' will recognise and highlight all those numbers within the document so that you can easily find them.
This feature was seamless! Not only did Power PDF find all the typical numbers that would be easily recognised, its custom 'Looks Like Search' allowed us to input a particular format of numbers that are typical to the company e.g. employee number. Needless to say, Power PDF found all of these number with very little effort.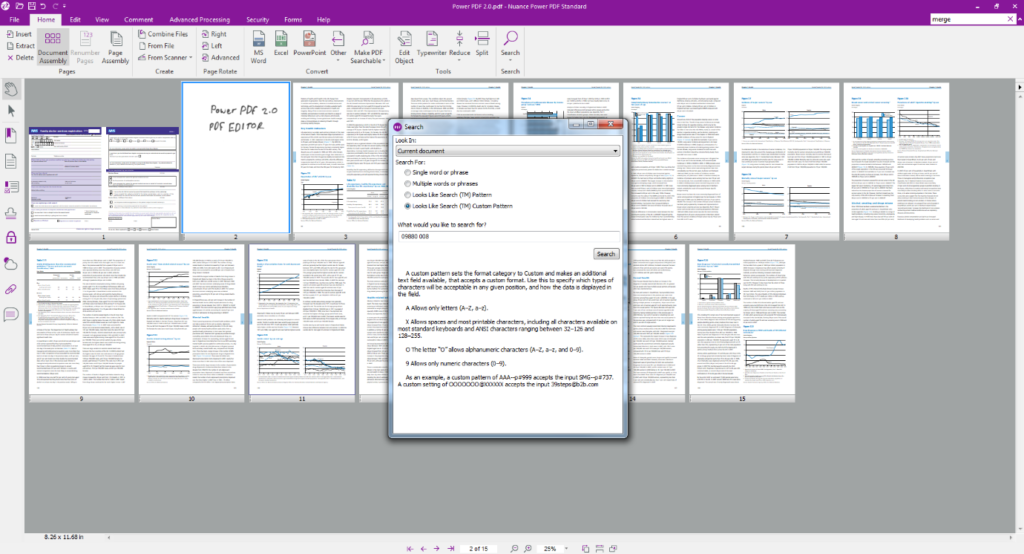 Price
The biggest selling point for Power PDF is the price, for £79.99 the Power PDF is a bargain. As an affordable alternative to the Adobe Acrobat which has a selling price of £282, Nuance's Power PDF is the perfect PDF editor for an individual or business who are looking for a cheaper PDF editor, with no compromises.
Summary
At a third of the price of Adobe Acrobat, Power PDF is the affordable alternative on the market that offers even more capabilities. With regards to improvements from its previous version, Power PDF is easier to use than its predecessor. The layout and its different functions are a lot more intuitive making it easier to understand how to use Power PDFs different functions. The Windows touch enables capabilities that gives users the ability to sign documents with recognisable signatures. All of the features of Power PDF 1.0 from its search functions, to its merge PDF files capabilities, email integration, cloud services, security features and fillable forms, are slightly more intelligent and have been tweaked in order to improve user experience.
So if you are a business or a personal user that is looking for great value for money, we could not recommend Power PDF more highly.
Tags: computers Microsoft Power PDF technology