E-cigarettes are now a billion dollar industry and many different types and brands have flooded the market. But one brand has consistently delivered high quality smoking replacement products again and again. That's Ten Motives and now they have a new offering in the form of their brand new electronic vaporiser, Cirro 3.
Design & Price Tag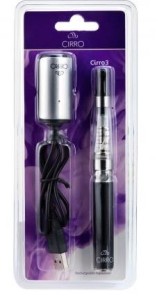 Their rechargeable electronic vaporiser comes with 1 rechargeable battery, 1 clearomiser and 1 nifty magnetic USB charger, all presented in smart packaging. The e-cigarette itself is made up of the clearomiser and the battery screwing together and is sleekly designed in smart black with a metallic trim. It's clear that Ten Motives have invested in this product as the device feels durable and of superior quality when compared to other products on the market. This might explain the immodest price tag of £24.99 but all you have to do is scroll through the negative feedback on cheaper products to realise that you get what you pay for and this is more than worth it!
The instructions for use are not as clear as they could be, especially if you haven't used an e-cigarette before but it is fairly straightforward once you know what you're doing. To use your liquid of choice, simply unscrew the black mouthpiece and squeeze the liquid into the top of the clearomiser, being careful not to get it in the central air hole. Simple. But you're not done yet. To actually start vaping, there is a slightly overcomplicated method to turn the vaporiser on and off. You must click the button 5 times within 3 seconds to activate or deactivate the device, indicated by blue or red flashes. This is a great way of ensuring the device doesn't activate in your pocket but does feel a bit excessive at times.
Flavour & Vaping
Ten Motives have an impressive 11 flavours on offer including regular and menthol but also things like coffee or grapefruit if you'd prefer. The menthol flavour is surprisingly refreshing and minty. It isn't too sweet and does not taste like chemicals, unlike some e-cigarettes' attempts. What is unusual is that there is almost no hint of tobacco at all and the flavour is much more akin to that of smoking shisha, something to bear in mind if you need the tobacco taste in your cigarette replacement. This is only a matter of personal preference though and the taste is much more satisfying than a poorly imitated menthol cigarette.
The actual smoking action is slightly underwhelming, as it doesn't drag as well as other products out there. Instead it feels quite laboured but one drag does deliver a relatively strong hit of nicotine, stronger than that of normal cigarettes. This you don't need to 'smoke' for as long as you would normally and is great for breaking your smoking habit as you can quell any nicotine cravings with one or two quick drags indoors rather than having to go outside for five to ten minutes. What may also be important to some users is that it doesn't produce massive amounts of vapour for you to exhale. Again, this is down to personal preference and doesn't really detract from the quality of the product as a cigarette replacement.
The Technical Side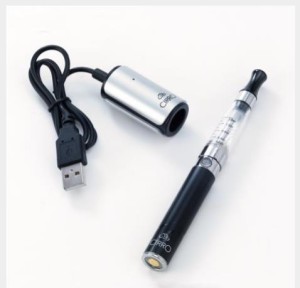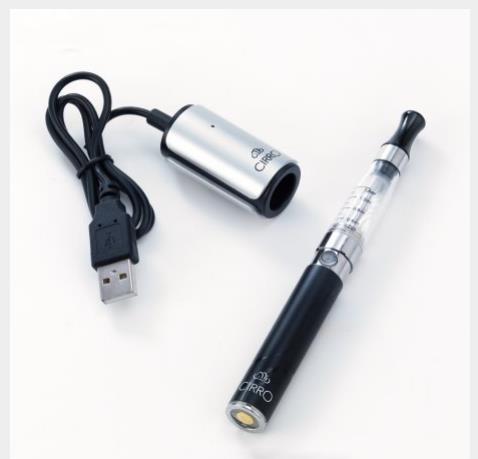 The kit does come with a rechargeable battery and a magnetic USB charger which is very useful and works great. You simply insert the battery into the charger which grabs the battery magnetically and plug it into your computer. It fully charges within a few hours and, having put this to the test, the device only needed charging after 3 days of what would be deemed high-frequency use. Each E-liquid (which must be purchased separately) contains 10ml and is the equivalent of more than 200 normal cigarettes. This probably emphasises the strength of the nicotine hit given from one drag and when you consider that one E-liquid costs just £4.95, not only is this a marginally healthier option but it is also cheaper than smoking.
Quitting Aid?
In terms of using it as a quitting aid, this product would not cure any nicotine addictions. It would simply serve to replace the source of your fix and you would still have to wean yourself off this e-cigarette if you intended on quitting altogether. But if your smoking compulsion is more of a habitual process than a heavy nicotine addiction then this is the product to break the cycle. Using the Cirro 3 certainly removes the urge to smoke a real cigarette and keeps nicotine withdrawal at bay. 
Verdict
Overall the Cirro 3 is a solid product with the potential to be great. It replaces smoking tobacco without completely taking away the joy of smoking through poor taste, as most e-cigarettes do. Instead, the flavoured e-liquids make a nice replacement for tobacco without trying to imitate it. A great-tasting smoking replacement that saves your lungs and your pocket!
Purchase If…
You are looking for a great-tasting alternative to cigarettes
You are looking to minimise health risks attached to smoking
You are looking for a cheaper alternative to smoking
Reconsider If…
You need a tobacco taste from your cigarette replacement
You need a big puff of vapour to exhale from your cigarette replacement
To ditch the dirty smokes and purchase your very own Cirro 3 visit Ten Motive's website and start your vaping journey today!
As always share your thoughts and experiences below in the comments section!
Tags: e-cigarette gadgets Quit Smoking smoking technology ten motives