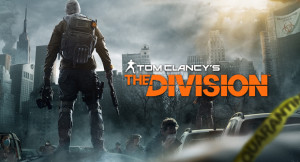 It's been a news-worthy week for the developers behind the Tom Clancy franchises in the pipeline this year. Both received widespread positive attention when they did the rounds at the game conventions in 2014 but since then, Rainbow Six: Siege has been the most active on social media, whilst The Division has quietened right down.
It didn't come as much of a surprise then when the official Division website announced an important update this week and officially delayed the release of Tom Clancy's The Division until early in 2016. Their statement read;
"Agents,
We have decided to release the game on Xbox One, PS4 and PC during the first quarter of calendar year 2016.
All of us at Massive, Reflections, Red Storm Entertainment and Ubisoft Annecy want to ensure the game not only meets our high expectations but also those of our fans and players alike. We are proud of what we have achieved so far and can't wait to show you more next month at E3!
Thanks for your support,
The Dev Team"
The Tom Clancy games have always been slow burners but have proven to be worth the wait more times than not. An unavoidable consequence of constantly making fans wait for games is that the hype and anticipation builds to a high level and suddenly the game better live up to expectations or a host of angry gamers will be furious at having been made to wait for something less than perfect.
However, it must be noted that Tom Clancy's The Division is a new franchise and whilst there is a generic Tom Clancy fan base, it doesn't compare to those waiting for a new Rainbow Six instalment. The last title to come out on consoles was Rainbow Six: Las Vegas 2 way back in 2008 and was generally well received.
Since then, there has been little to no progress made until very recently. For a while, developers at Red Storm Entertainment teased us with Rainbow Six: Patriots which even got a gameplay demo but before long that had completely disappeared off the radar.
Then, as if from nowhere, a world premier of Rainbow Six: Siege appeared at last year's game conventions and fans were given reason to hope again. Patriots had been replaced for a new and refreshing take on the elite team shooter that brings the focus back to tactical, intelligent gameplay, something the Tom Clancy series is known for.
And in order to honour the fans anticipation and patience, developers have created a dedicated blog for that follows the progress of the game, releasing bits of information and behind-the-scenes access on regular intervals.
Not only have they introduced the game's characters with in-depth back stories and specialist skills, but in the most exciting development for the Rainbow Six franchise in years, this week they announced a release date for Rainbow Six: Siege.
Now, because the Tom Clancy team have a history of delaying and moving game release dates, fans should be cautious when getting excited about this latest announcement. In all likelihood, the game could get pushed. But it has to be noted that something definitely feels different about their approach to this title and that perhaps, because of the length of time we have had to wait for this franchise to be resurrected, maybe they are prioritising this game ahead of The Division because it is a more likely success.
So with an air of caution, it could be time to start counting down the days until the next Rainbow Six game hits the shelves and we can rejoin the international team of elite soldiers to save the world from terror again.
Expect to hear more from E3 next month. Until then we will have to satisfy ourselves with the Behind the Wall blog and enjoy this exciting release date announcement trailer.
Tags: ps4 Rainbow Six Rainbow Six Siege Tom Clancy Tom Clancy's The Division xbox xbox one