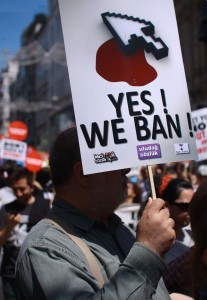 The Turkish government has blocked the public from Twitter just a week ahead of it's municipal election. Public access to the social media service has now been blocked at the IP level inside the country, this comes days after Turkey's Prime minister Tayyip Erdoğan vowed to eliminate Twitter following tweets linking him to corruption. Twitter in the recent weeks has become a battleground for pro- and anti-government factions within Turkey in the run-up to a heated election.
Days before the Twitter IP block, Turkish residences were spreading word of Google's Domain Name System addresses (8.8.8.8 and 8.8.4.4), when set into a computer's network settings offered way to evade the ban and helped Turks to keep using the service. Some had even taken to spray painting DNS addresses in public areas.
Initially, Erdoğan's edict seemed to be only imposed by a DNS block, now blocking Twitter at the IP level is effectively shutting the backdoor on using alternate DNS servers like Google, which momentarily helped Turks connect to Twitter following last week when the public was barred access to the online service. Twitter has stated it will be looking into claims from the prime minister's office that it had ignored court rulings requiring the company to take down posts deemed inflammatory. In the meantime, the company's policy team encouraged Turkish citizens to continue tweeting using SMS.
Turkish users: you can send Tweets using SMS. Avea and Vodafone text START to 2444. Turkcell text START to 2555.

— Policy (@policy) March 20, 2014
With Twitter being blocked by IP address, simply changing a DNS address will no longer allow users access. But there are workarounds. Using a Virtual Private Network could allow users to digitally tunnel outside the ban and bypass the block. Also using the anonymous browsing tool TOR, which reroutes traffic through nodes on a network that spans the globe, should also enable users to circumvent the ban.
But both of those options are slightly more technically involved than the previously available ways to bypass the block, but It does not appear that any of these methods have yet been affected by the most recent restrictions. The Turkish government has made no indication as to when or if this block will be lifted.
Tags: DNS Elections Google Protest social media TOR Turkey twitter VPN