London, 17 December 2013: Vue Magazine, the UK's number one dedicated film title by circulation, is being launched in a free tablet version mid-December 2013. The app, developed by Publicis Blueprint, is being rolled out following the success of Vue Magazine and has been designed to maximise the tablet format, featuring interactive interviews, features and embedded video, audio and games.
Vue Magazine app is now available to download for iPad bit.ly/vuemagiOS and Android bit.ly/vuemagAndroid tablets. The app will work in conjunction with the existing print magazine, but will feature a host of additional content such as film trailers, exclusive interviews, an in-app Twitter feed, facts and figures and interactive graphics plus the ability to buy tickets online with minimal clicks. Designed to optimise user experience, the app's navigation is simple and intuitive.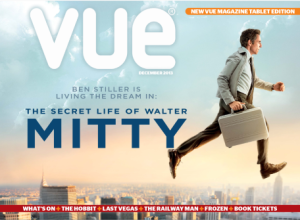 The app will be available in a monthly edition, but weekly updates will launch each Thursday, to coincide with that week's new film releases. These will feature the latest reviews and footage. The corresponding Vue print magazine will run in a bi-monthly edition, starting with the December 2013/January 2014 magazine.
Originally launched in March 2013, the Vue Magazine is available in foyers at 82 Vue cinema sites across the UK and Ireland. Research earlier this year* found that 94% of readers said they take their copy of Vue home to read while over a third of readers are spending 11-20 minutes reading it, with another 23% reading for up to half an hour.
Michael Kalli, Head of Corporate Sales & Advertising at Vue commented: "With 95% of readers rating the print edition good or very good, we know there's a real appetite for the editorial and the app format gives us the opportunity to bring even deeper and more regular content to readers. Online is a key channel for Vue and we're keen to make the process from discovering an exciting new film to booking tickets to see it easier. The new Vue Magazine app, blends quality editorial with great functionality, and we look forward to letting our customers get the chance to explore and enjoy the wealth of content for themselves".
Neal Anderson, Digital Director at Publicis Blueprint, commented: "The Vue Magazine app draws upon our extensive experience of creating multi-award winning magazine apps, and our goal from the outset has been to develop an app for our client that delivers best in class features, great journalism and intuitive interactivity. The key is that this is not just a print magazine transposed onto a tablet – the app skilfully combines relevant tablet functionality with quality content, delivering this through an optimised user experience, a strategy that also paves the way for future segmentation and personalisation."
*CMA Vue Magazine SnapShot Summary content marketing report, April 2013
Tags: app apps tablet vue vue magazine