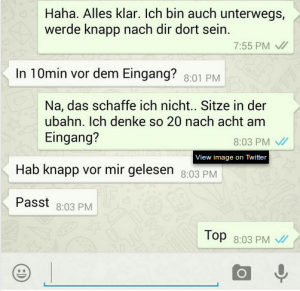 Privacy wasn't one of WhatsApp's strongest suits, at least not until Facebook took over WhatsApp. After introducing a feature that allowed you to remain anonymous, WhatsApp is now testing a feature that calms nervous folk down. From now on a set of blue ticks will confirm if your messages are read.
Earlier, the ticks on WhatsApp worked as follows – a single tick means it's stored on the server, two ticks indicated it is sent to the receiver and now a blue set of ticks means it is viewed. The blue tick isn't limited to texts but extended to audio, video or pictures that are sent everyday.
A feature distinct to the Facebook messenger, the inclusion of this new feature is going to ruffle a lot of feathers. The pressure to respond to messages and mark them as read is going to push the need for people to turn off the 'last seen' time stamp and ensure their privacy. The newly rolled out feature is limited to a few handsets running Android, Windows and iOS, although it is yet to be confirmed if it is an option or if it will be forced out from future releases fearing public backlash.
In other news, Droidapp.nl leaked screen shots of proposed icons for WhatsApp's VoIP feature. The icons look a lot like the ones on Phone.app icon, and will hopefully allow users to make international calls over Wi-Fi or cellular data for free. This feature will see some competition from Viber which has been doling out these options for a long time. The only catch here – and I'm afraid WhatsApp may lose out to Viber because of it – is that Viber offers these features for free. They have also uploaded the proposed dial tone to be incorporated later. Let's see how this pans out in the future.
Tags: Android facebook iOS Viber VoIP WhatsApp Windows