Lucky Londoners will be the first to see the début of something new in the smart phone industry. Most smart phones are the same: they multi-task, are always in our hands, and even better, are our windows to the social world. The only glaring difference comes in the hardware employed, features included, and attention to detail drawing comparisons among various models available in the market. Bigger HD screens, dual-SIMs, 4G LTE and the list goes on as newer features are added to devices to give them the one competitive advantage they desperately want.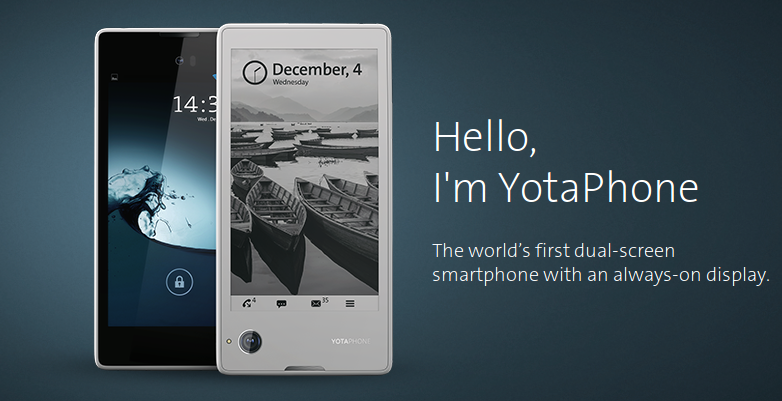 If that is how hardware manufacturers work today, then YotaPhone has a surprise for you.
Russian company YotaPhone, plans to release the YotaPhone 2 on December 3 at an invite-only event in London. Ambitious yet flawed, Generation 1 of the YotaPhone promised much, but delivered very little. The YotaPhone 2 wants to change that perception; it has to, since the new phone is packed with a smart phone display on one side and a power efficient e-ink screen (that actually works) on the back.
Prototypes of the YotaPhone 2 have been passed on to technology journalists as early as February, but any mention of the device is being made now, perhaps to avoid mistakes made with the predecessor. The unanimous verdict: the YotaPhone 2 is better than the previous release. The fully-touch sensitive e-ink display works now, seeing that it was pretty close to inoperable on the YotaPhone 1. The e-ink screen can handle core functions including emails, texts and calls and more according to journalists.
What is known of the YotaPhone 2  now is that it comes with: in two shades, a 4.3″ 720X1280 pixels HD screen, a 13 MP camera, multi-touch capacitive screen, e-ink/paper display, and curve damage resistance Corning Gorilla Glass.
While smart phones are a modern technological necessity (listed under Wi-Fi, Facebook, Twitter and the list goes on), many less-intensive users would want an e-ink screen display instead of the power hungry LCD display. This could be a major development in managing battery life, an issue most manufacturers constantly dodge and is the untold woe for many.
The first YotaPhone was a demo, but the second will surely bring a paradigm shift in what is considered important for the smart phone to adapt and survive. Hopefully, the second phone will hide the flaws and find takers in a market where the interest in a new product is as fleeting as the wind.
Tags: 4G LTE Corning Gorilla Glass Dual-screen e-ink display london Russia YotaPhone 2